Have you spent hours and hours growing your email list and crafting high-quality and high-value content just to get poor results?
Email inbox is prime real estate these days. The average worker has been reported to receive 121 emails each day.
With more brands trying to reach your ideal customer, how do you stand out?
Maybe you've done A/B testing on your subject lines, or you've tried various times of the day? Those strategies may boost your open rate, but are you driving your recipients to take action?
Have you been focusing your strategy on your open rate instead of your email click-through rate?
It's not too late to shift your focus, here are some tips for boosting your CTR.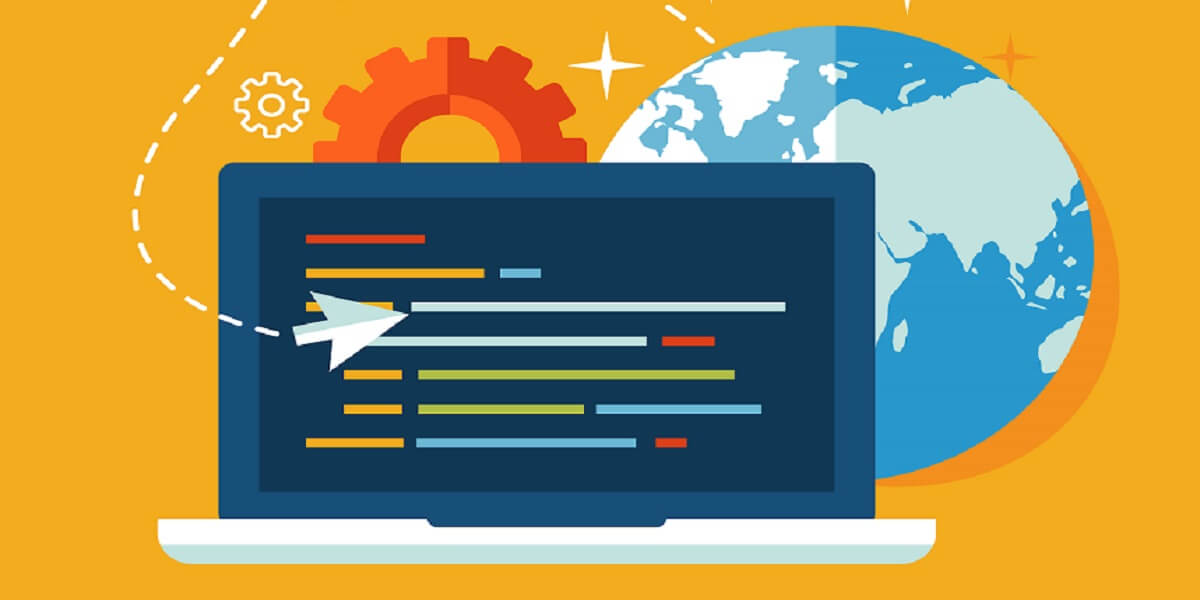 What is an Email Click-Through Rate?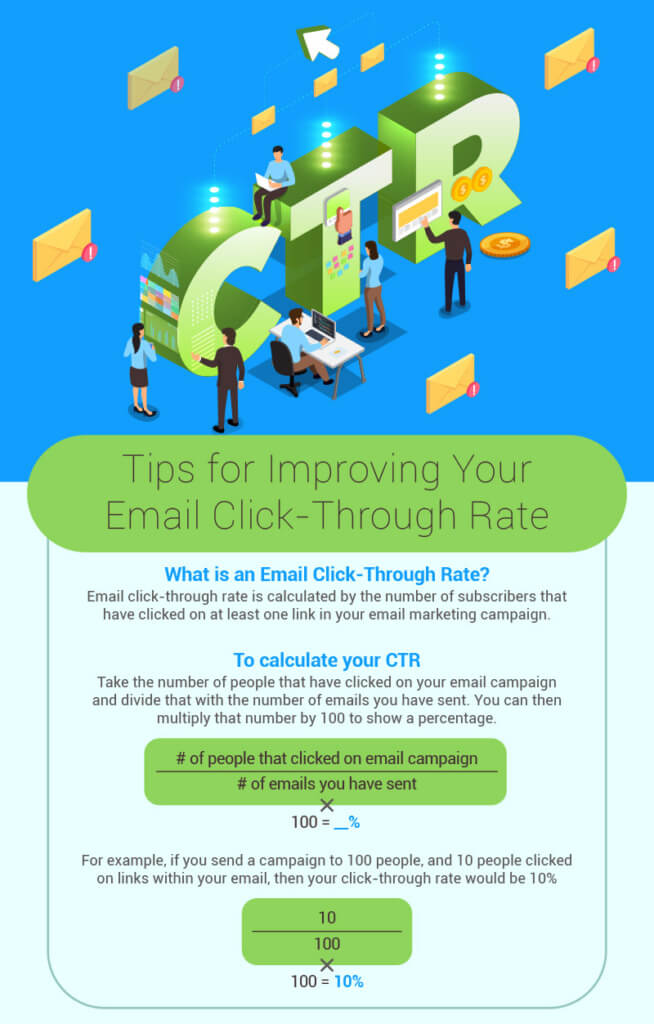 So, you've been measuring your email campaign success by your open rate.
According to Mail Chimp, the average open rate is 21%.
Maybe your open rate is 25%, so you think you're crushing it. 1/4 of all recipients open your email. That's great, right? Not exactly. What happens after they open it?
Email click-through rate is calculated by the number of subscribers that have clicked on at least one link in your email marketing campaign.
To calculate your CTR, take the number of people that have clicked on your email campaign and divide that with the number of emails you have sent. You can then multiply that number by 100 to show a percentage.
For example, if you send a campaign to 100 people, and 10 people clicked on links within your email, then your click-through rate would be 10%.
What About the Email Click to Open Rate?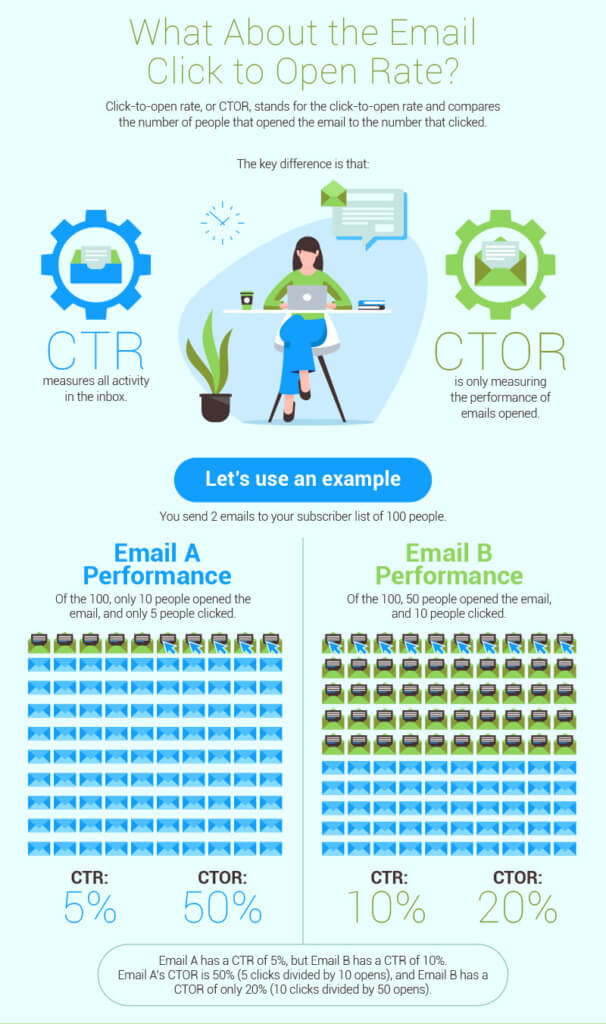 Click-to-open rate, or CTOR, stands for the click-to-open rate and compares the number of people that opened the email to the number that clicked.
The key difference is that CTR measures all activity in the inbox versus CTOR is only measuring the performance of emails opened.
Let's use an example.
You send 2 emails to your subscriber list of 100 people.
Email A Performance:Of the 100, only 10 people opened the email, and only 5 people clicked.
Email B Performance:Of the 100, 50 people opened the email, and 10 people clicked.
Email A has a CTR of 5%, but Email B has a CTR of 10%.
Email A's CTOR is 50% (5 clicks divided by 10 opens), and Email B has a CTOR of only 20% (10 clicks divided by 50 opens).
Did one email win? Not necessarily.
Both metrics are useful. Because the CTOR only includes actions of opened emails, there is no impact from subject lines or timing, but those things are key for a good CTR in general.
Tracking both and understanding what they represent is essential for growing an email list that consistently contributes to your company's bottom line, but for now, let's focus on your CTR.
Why is Your Email Click-Through Rate Important?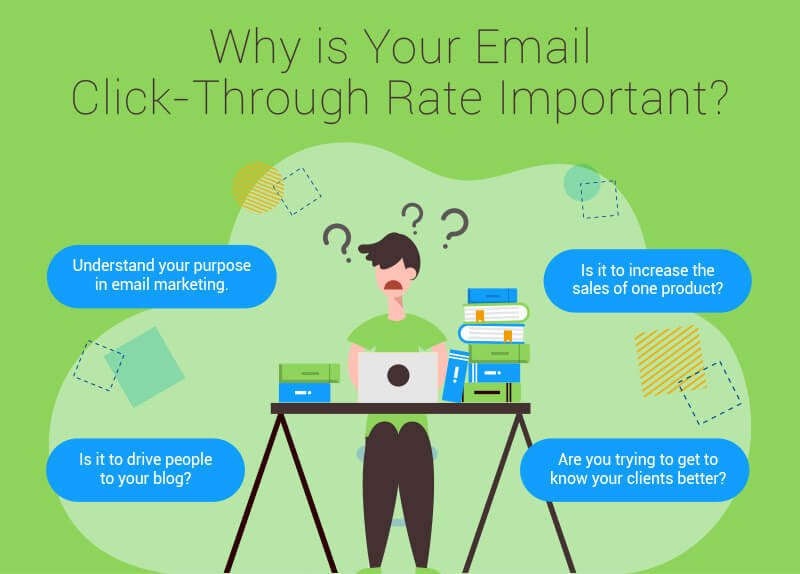 Now that you understand how to calculate your email click-through rate, why is it important?
To answer that question, let's understand your purpose in email marketing.
Is it to drive people to your blog? Is it to increase the sales of one product? Are you trying to get to know your clients better?
Can you achieve those metrics or goals with a simple open?
Let's use an example.
Greg is a fitness blogger and owns a natural supplement company. He is launching a supplement to reduce bloating, so he sends out an email to his subscribers with 5 tips for reducing bloating with intentions to sell his new product.
His subscribers opened and read the email, but they didn't click on the product link.
Did that help Greg reach his goal? Not really.
Did he give them a reason to learn more about his product or purchase it?
A good open rate just isn't enough, but there are ways to improve your CTR.
How to Improve Your Click-Through Rate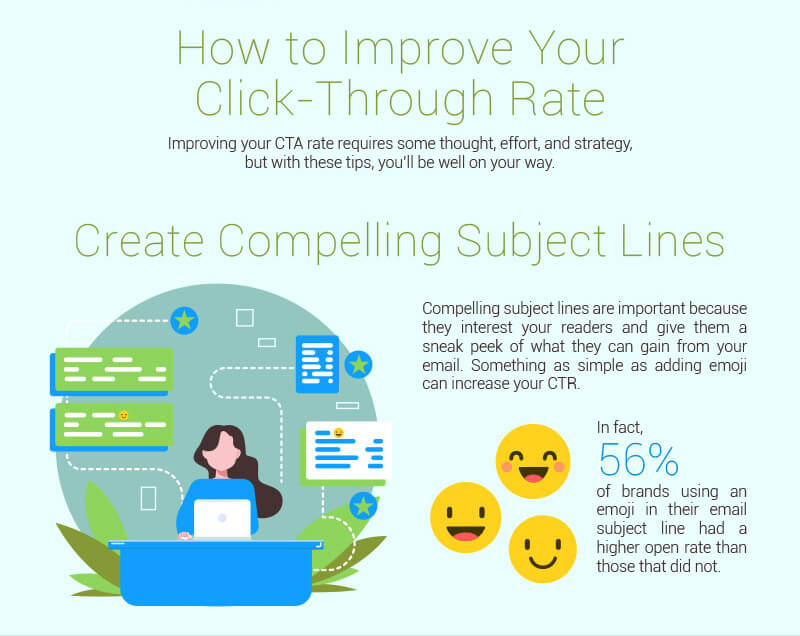 Consistency is great, but it's not enough to drive results.
Improving your CTA rate requires some thought, effort, and strategy, but with these tips, you'll be well on your way.
Why You Should Create Compelling Subject Lines
Your open rate is still important. To click through, your potential customer needs to open the email.
With over 120 emails per day, what makes your email stand out? What are they going to gain from this email? Do they drive action?
If Greg's subject line was "5 Ways to Reduce Bloating", would that interest you? It could, but it could also be better.
How about "Learn How I Dropped 5 lbs by Reducing Bloating"?
Which one would entice you more? The second is more interesting, and it targets a goal of Greg's followers: to lose weight.
Compelling subject lines are important because they interest your readers and give them a sneak peek of what they can gain from your email.
Something as simple as adding emoji can increase your CTR. In fact, 56% of brands using an emoji in their email subject line had a higher open rate than those that did not
If users are excited to read your email, they'll more than likely click through.
Why You Should Write Engaging Copy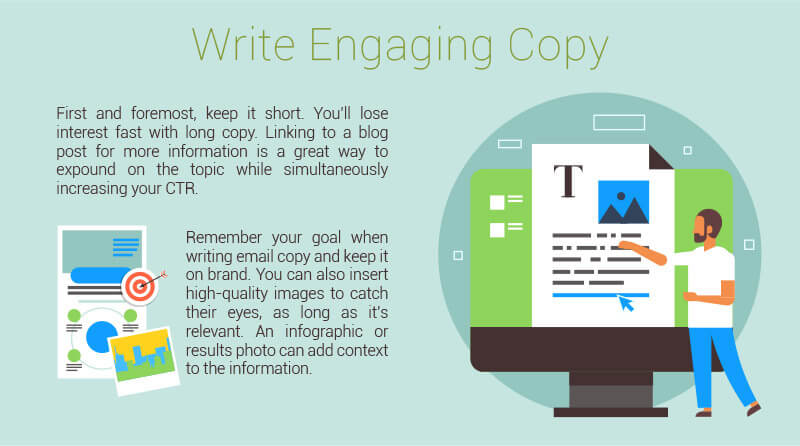 Now that you've captured your audience with a compelling headline, you have to keep them hooked with engaging copy.
First and foremost, keep it short. You'll lose interest fast with long copy. Linking to a blog post for more information is a great way to expound on the topic while simultaneously increasing your CTR.
Remember your goal when writing email copy and keep it on brand. If Greg is a very transparent fitness expert and utilizes that to build a relationship, his copy could be a personal experience.
How is "Good Morning Dave, are you looking to lose the weight and fit in your favorite pair of pants?" versus "A few months ago, I went to visit my family in Georgia, and the food was AMAZING, so amazing that I gained a few extra lbs"?
No matter what industry you can engage with your audience. Walk-in their shoes and understand their needs.
As a bonus, you can also insert high-quality images to catch their eyes, as long as it's relevant. An infographic or results photo (for the weight loss example) can add context to the information.
Reasons to Optimize for the Mobile Experience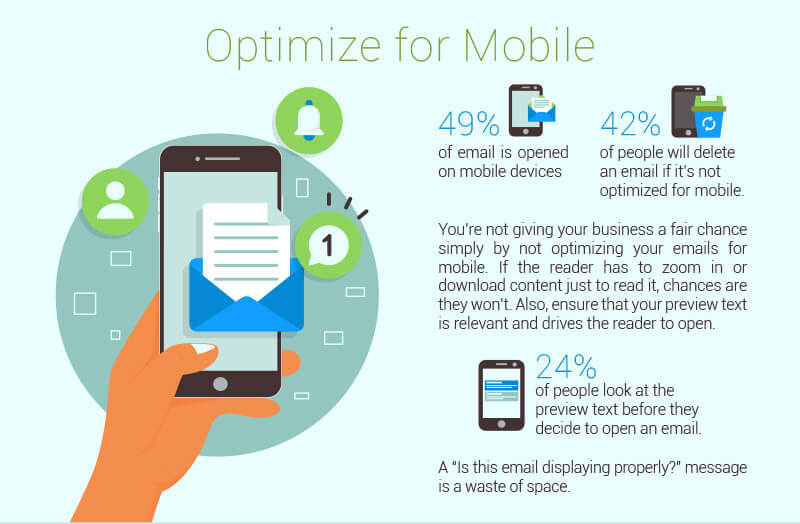 Do you want to miss out on connecting with your customers over a simple fix? Of course not.
Mobile optimization is a simple fix.
49% of email is opened on mobile devices, and 42% of people will delete an email if it's not optimized for mobile.
You're not giving your business a fair chance simply by not optimizing your emails for mobile. If the reader has to zoom in or download content just to read it, chances are they won't.
Also, ensure that your preview text is relevant and drives the reader to open. 24% of people look at the preview text before they decide to open an email. Preview text gives a snapshot of your email and is often pulled from the content. A "Is this email displaying properly?" message is a waste of space.
Reader's experience should be effortless. If not, it's a poor reflection of your business.
Why You Should Add Social Sharing Options to Your Emails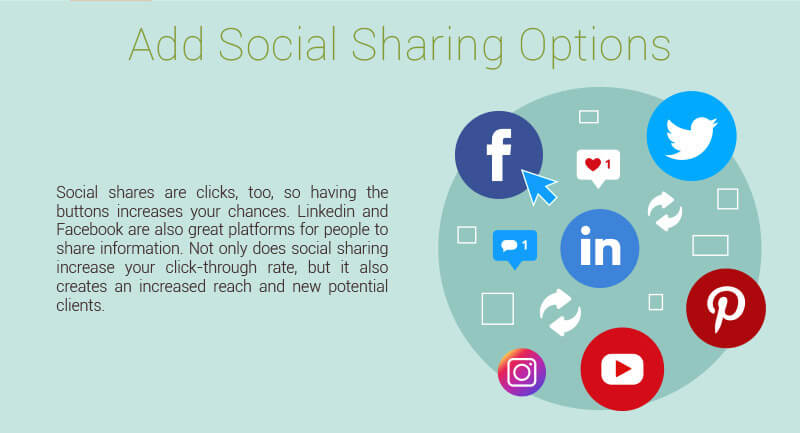 Are you providing useful content that can help others? If so, allow readers to share it.
Social shares are clicks, too, so having the buttons increases your chances.
Let's say that Greg's subscriber Mary found his email about bloating very useful and decided to share it on her Pinterest. You've now increased your CTR.
Linkedin and Facebook are also great platforms for people to share information.
Not only does social sharing increase your click-through rate, but it also creates an increased reach and new potential clients.
Offer Discounts to Create Urgency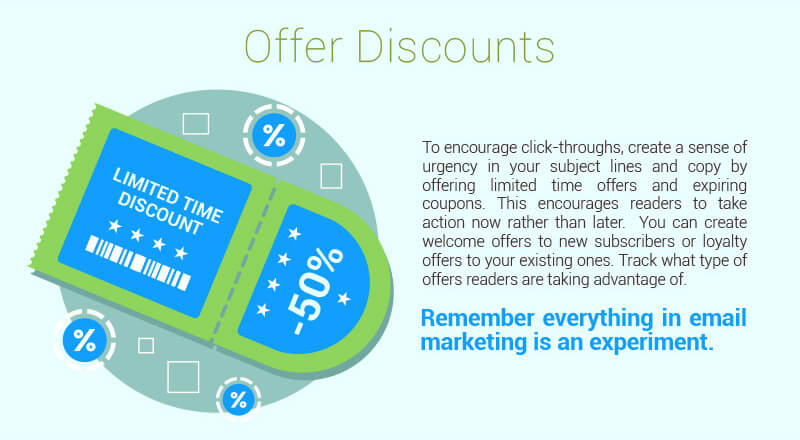 42% of Americans subscribe to email lists to receive savings and discounts.
Many people expect this from brands, and it can be a great tool to create loyalty.
To encourage click-throughs, create a sense of urgency in your subject lines and copy by offering limited time offers and expiring coupons. This encourages readers to take action now rather than later.
You can create welcome offers to new subscribers or loyalty offers to your existing ones.
Track what type of offers readers are taking advantage of. Remember everything in email marketing is an experiment.
Why You Must Segment Your Email Lists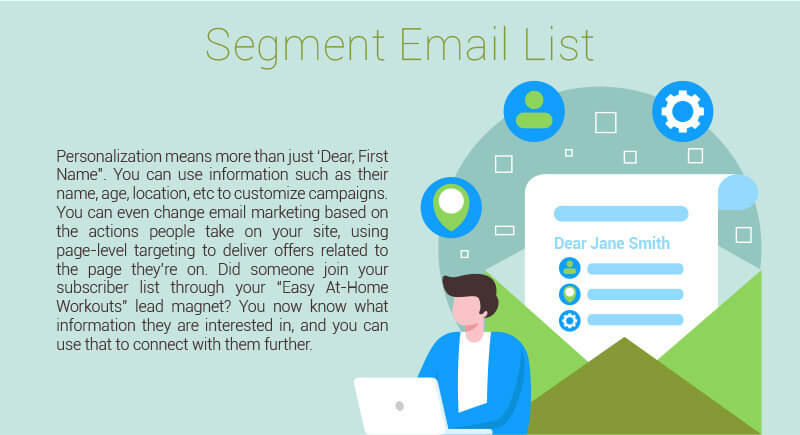 Personalization means more than just 'Dear, First Name".
Have you taken the time to segment your email list? The data you have can work miracles.
You can use information such as their name, age, location, etc to customize campaigns. You can even change email marketing based on the actions people take on your site, using page-level targeting to deliver offers related to the page they're on.
Did someone join your subscriber list through your "Easy At-Home Workouts" lead magnet? You now know what information they are interested in, and you can use that to connect with them further.
What about their purchase history? If Mary purchased Greg's supplements, he can now send her more personalized emails and offers.
With more and more data available, personalization, segmentation, and micro-targeting will become more important in boosting your email marketing click-through rate.
Run A/B Split Tests With Similar Email Campaigns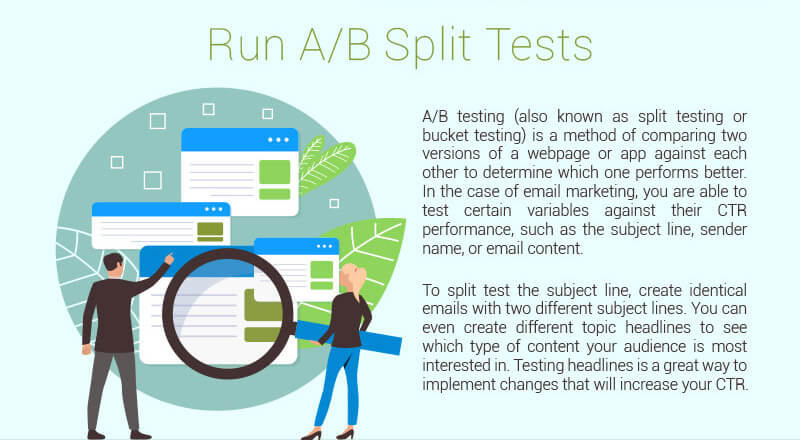 A/B testing (also known as split testing or bucket testing) is a method of comparing two versions of a webpage or app against each other to determine which one performs better.
In the case of email marketing, you are able to test certain variables against their CTR performance, such as the subject line, sender name, or email content.
To split test the subject line, create identical emails with two different subject lines, similar to the example for creating compelling headlines. You can even create different topic headlines to see which type of content your audience is most interested in. Testing headlines is a great way to implement changes that will increase your CTR.
Split testing the sender's name is easy. Let's pretend Greg's business name is Natural Fitness. You can test Natural Fitness versus Natural Fitness LLC. You can even test the email address, like greg@naturalfitness.com or info@naturalfitness.com.
You have to dig deeper to split test email content. Change the section titles, article length, calls-to-action, header images, or even the design and format.
Split testing is meant to help you determine which content your audience best responds to. Continuous split testing and adjusting your content will keep your finger on the pulse.
Why It's Healthy to Scrub Your Email List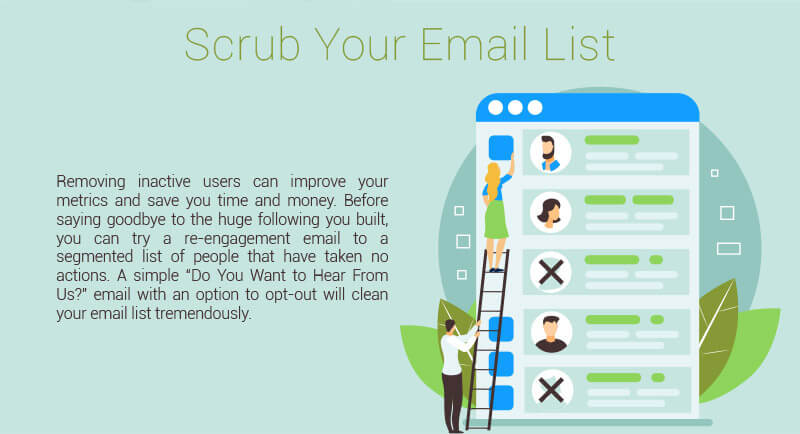 If you've tried every strategy multiple times and you're still getting no results, it might be time to scrub your email list.
Removing inactive users can improve your metrics and save you time and money.
Before saying goodbye to the huge following you built, you can try a re-engagement email to a segmented list of people that have taken no actions.
A simple "Do You Want to Hear From Us?" email with an option to opt-out will clean your email list tremendously.
You could continue testing subject lines, copy, and time of day when the issue is really just an inactive subscriber list.
Always remember quality over quantity.
Get Started Today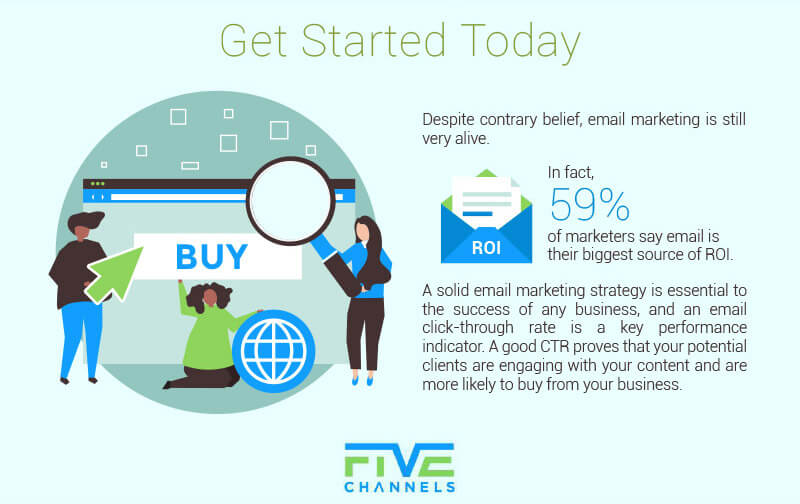 Despite contrary belief, email marketing is still very alive. In fact, 59% of marketers say email is their biggest source of ROI.
A solid email marketing strategy is essential to the success of any business, and an email click-through rate is a key performance indicator.
A good CTR proves that your potential clients are engaging with your content and are more likely to buy from your business.
Visit our blog to learn more about email marketing and other digital marketing strategies.

If you enjoyed our infographics, then checkout our friends over at easelly. We utilize their infographic services in many of our projects.
Owner and Chief Marketing Officer, Jason Hall, and his team specialize in creating brand awareness / traffic and lead generation / marketing funnel and conversion optimization, while utilizing the appropriate marketing channels available within your industry. With diverse clients throughout the world, Jason's team is well connected within many industries to assist with your marketing strategies. With no long term contracts and various levels of service, Jason's team will increase the quality of your online traffic, leads, and sales.
Free Website Audit Tool
See how well optimized a web page, landing page, or blog post is for an exact keyword or phrase
About the author...
Located in the heart of the Emerald Coast - Destin, FL, founder and Chief Marketing Officer, Jason Hall, and his team specialize in creating brand awareness / traffic and lead generation / marketing funnel and conversion optimization / and PR campaigns, while utilizing the appropriate marketing channels available within your industry.
With diverse clients throughout the world, Jason's team is well connected within many industries to assist with your marketing strategies. With no long term contracts and various levels of service, Jason's team will increase the quality of your online traffic, leads, and sales.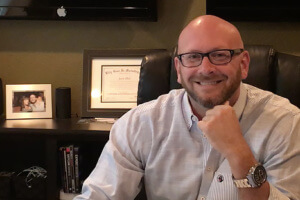 Request a digital marketing strategy session today and we'll show you what you've been missing!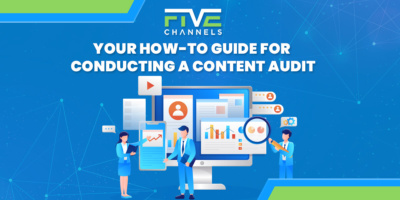 If you're trying to hit all of your marketing goals, never forget that success leaves clues. More than 80% of…