Did you know that if you include a high-quality photograph in your social media and advertising you have a 650% increase in interaction with potential customers versus an ad with text alone?
If you are looking for quality photographs for your business, but don't want to break the bank, you can find high-quality, royalty free photographs on the web, if you know where to look.
Let's walk through the caveats of using images and talk about the top seven places to find free photographs.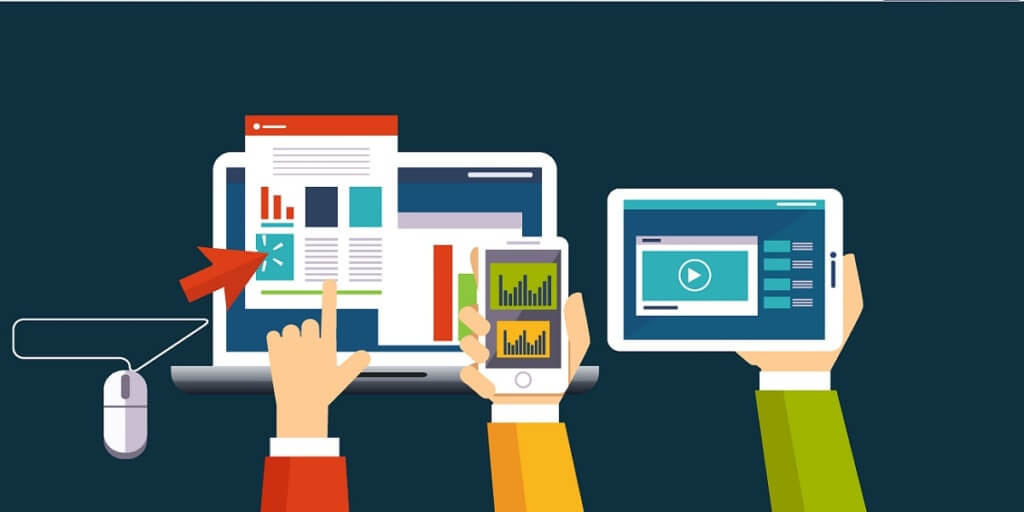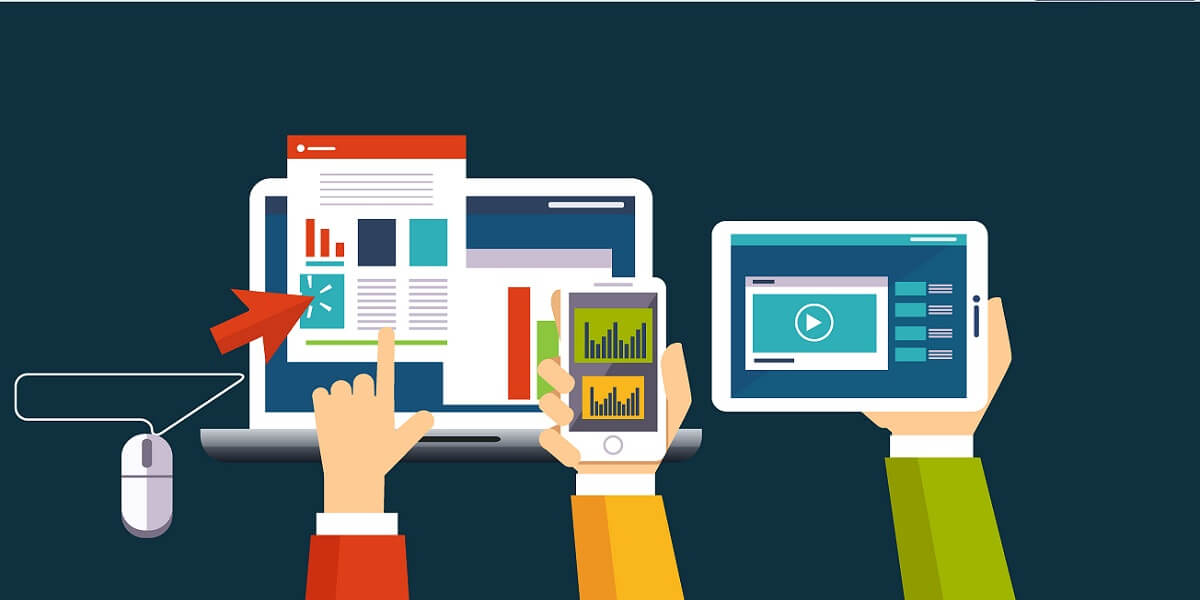 How Do I Find Royalty Free Photographs and What Does Royalty Free Mean?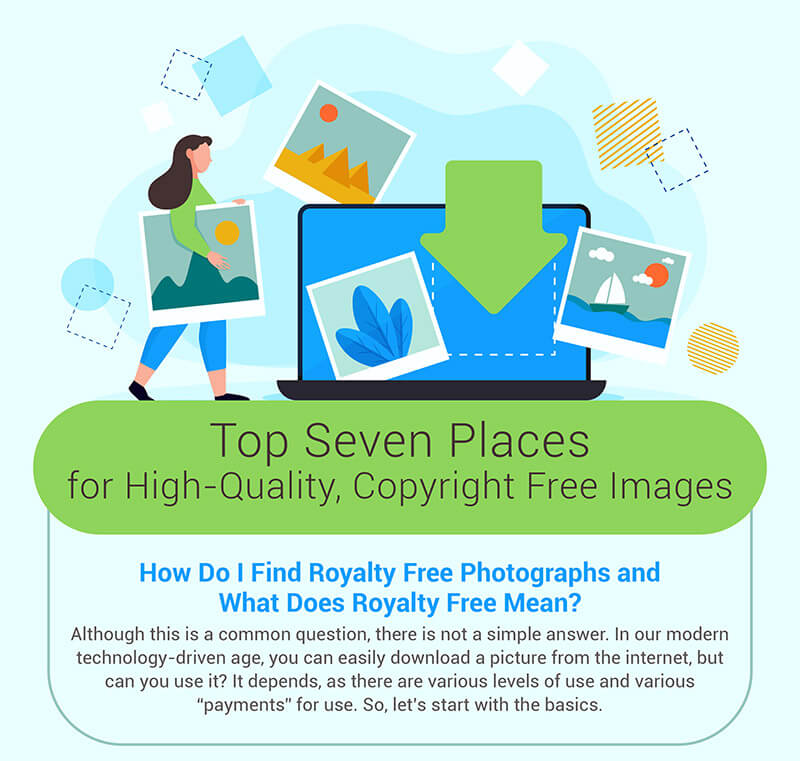 Although this is a common question, there is not a simple answer. In our modern technology-driven age, you can easily download a picture from the internet, but can you use it? It depends, as there are various levels of use and various "payments" for use. So, let's start with the basics.
What is Copyright Protection?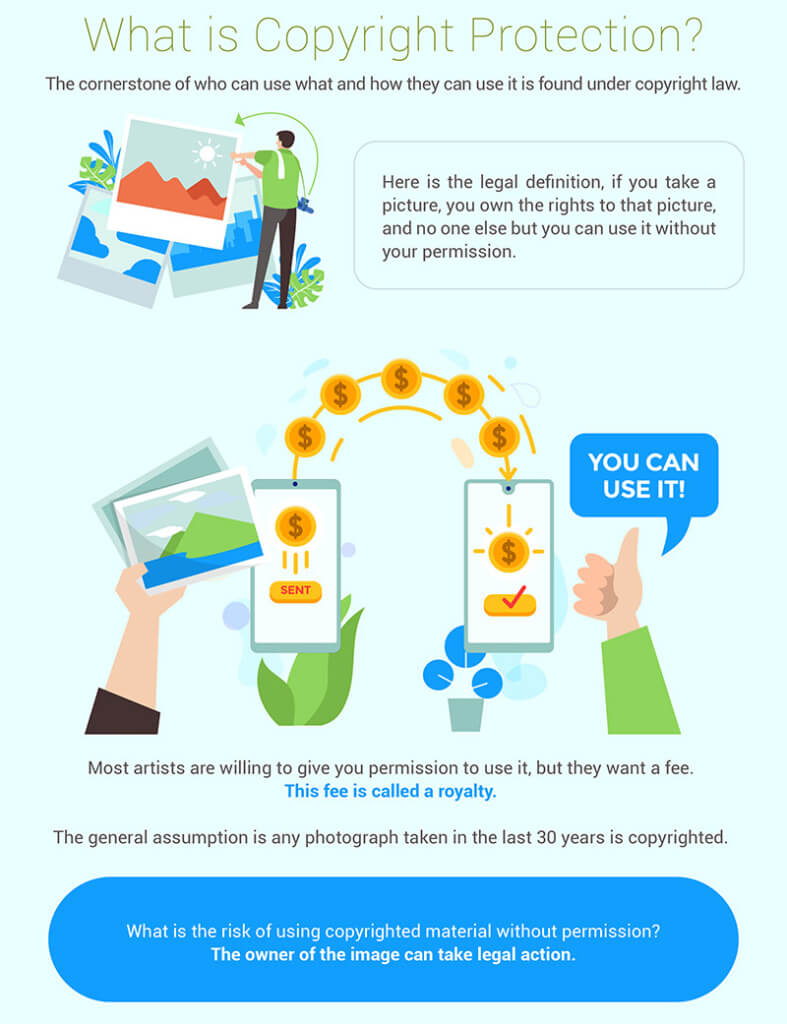 The cornerstone of who can use what and how they can use it is found under copyright law. Here is the legal definition, but in essence, if you take a picture, you own the rights to that picture, and no one else but you can use it without your permission.
Most artists are willing to give you permission to use it, but they want a fee. This fee is called a royalty. The general assumption is any photograph taken in the last 30 years is copyrighted. The same applies to things like music.
What is the risk of using copyrighted material without permission? The owner of the image can take legal action.
What is a Public Domain Photo?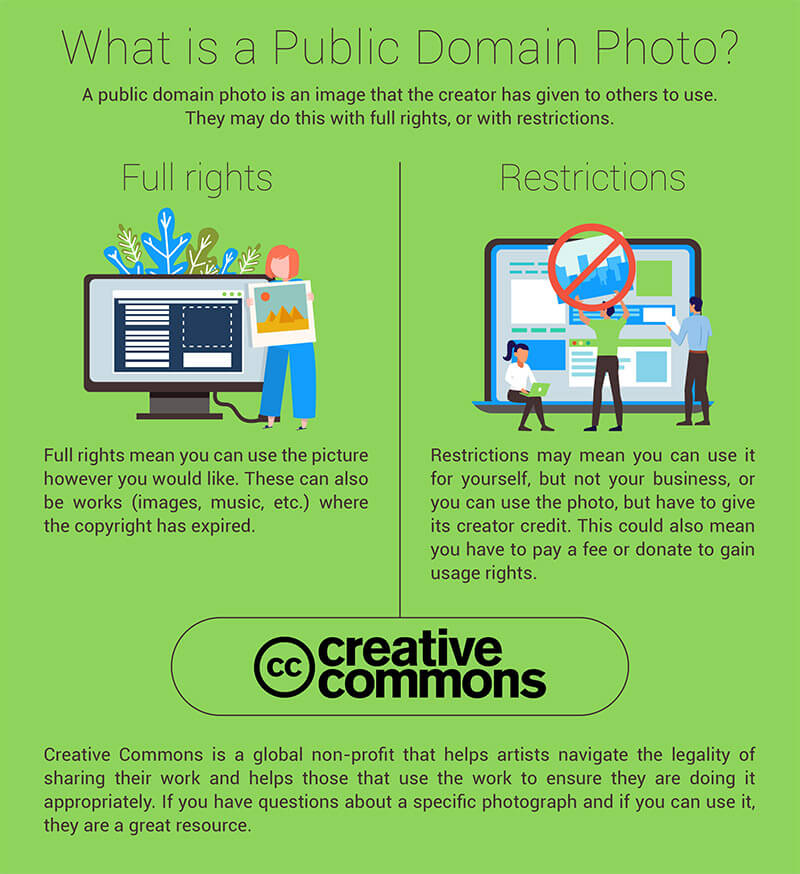 A public domain photo is an image that the creator has given to others to use. They may do this with full rights, or with restrictions. Full rights mean you can use the picture however you would like. These can also be works (images, music, etc.) where the copyright has expired.
Restrictions may mean you can use it for yourself, but not your business, or you can use the photo, but have to give its creator credit. This could also mean you have to pay a fee or donate to gain usage rights.
Creative Commons is a global non-profit that helps artists navigate the legality of sharing their work and helps those that use the work to ensure they are doing it appropriately. If you have questions about a specific photograph and if you can use it, they are a great resource.
What is Royalty Free?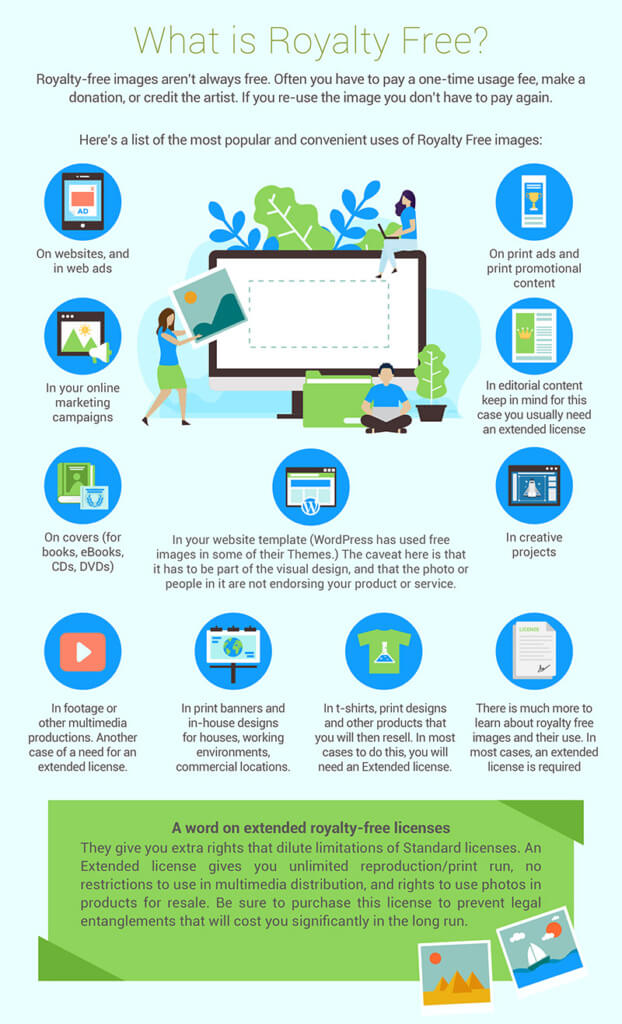 Royalty-free images aren't always free. Often you have to pay a one-time usage fee, make a donation, or credit the artist. If you re-use the image you don't have to pay again.
Here's a list of the most popular and convenient uses of Royalty Free images:
– On websites, and in web ads,
– In your online marketing campaigns,
– On print ads and print promotional content,
– On covers (for books, eBooks, CDs, DVDs),
– In editorial content keep in mind for this case you usually need an extended license.
– In creative projects
– In your website template (WordPress has used free images in some of their Themes.) The caveat here is that it has to be part of the visual design, and that the photo or people in it are not endorsing your product or service.
– In footage or other multimedia productions. Another case of a need for an extended license.
– In print banners and in-house designs for houses, working environments, commercial locations.
– In t-shirts, print designs and other products that you will then resell. In most cases to do this, you will need an Extended license.
– There is much more to learn about royalty free images and their use. In most cases, an extended license is required.
A word on extended royalty-free licenses. They give you extra rights that dilute limitations of Standard licenses. An Extended license gives you unlimited reproduction/print run, no restrictions to use in multimedia distribution, and rights to use photos in products for resale. Be sure to purchase this license to prevent legal entanglements that will cost you significantly in the long run.
There is more to learn if you want to completely understand royalty free images. If you want to learn more, click here.
Seven Copyright Free Places for Quality Photographs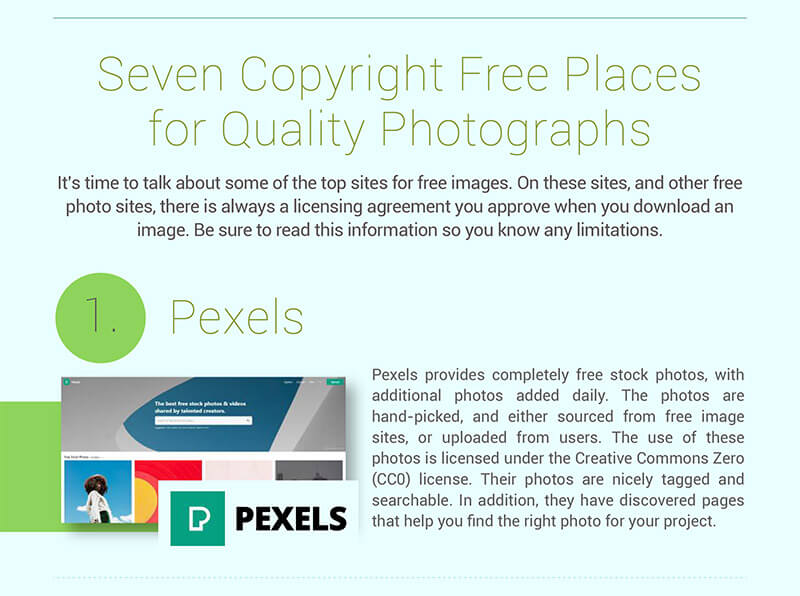 Now that you have a background, it's time to talk about some of the top sites for free images. On these sites, and other free photo sites, there is always a licensing agreement you approve when you download an image. Be sure to read this information so you know any limitations.
High-quality images are vital to your marketing strategy. Think of the influence of Instagram on millennials' purchasing habits. Keep in mind there are also changes on Instagram to follow. Because of the continual changes to digital marketing, some companies seek help from firms designed specifically to increase your SEO and implement your marketing plan.
1. Pexels
Pexels provides completely free stock photos, with additional photos added daily. The photos are hand-picked, and either sourced from free image sites, or uploaded from users.
The use of these photos is licensed under the Creative Commons Zero (CC0) license. Their photos are nicely tagged and searchable. Their mission is to provide free stock photos to help the millions of creators across the globe create beautiful, engaging, and impactful designs. In addition, they have discovered pages that help you find the right photo for your project.
Check back with Pexels regularly to monitor any changes in their policies. In May they were bought by Canva. See more on Canva below.
2. Unsplash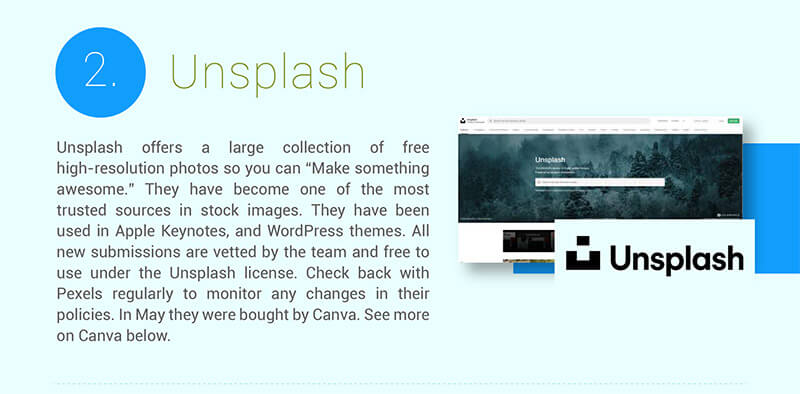 Unsplash offers a large collection of free high-resolution photos so you can "Make something awesome." They have become one of the most trusted sources in stock images.
If you think free images are just for the small businesses, you are mistaken. More than likely you have already seen an Unsplash photo. They have been used in Apple Keynotes, and WordPress themes. All new submissions are vetted by the team and free to use under the Unsplash license. They have over 1,000,000 free (do-whatever-you-want) high-resolution photos brought to you by the world's most generous community of photographers.
3. Burst (by Shopify)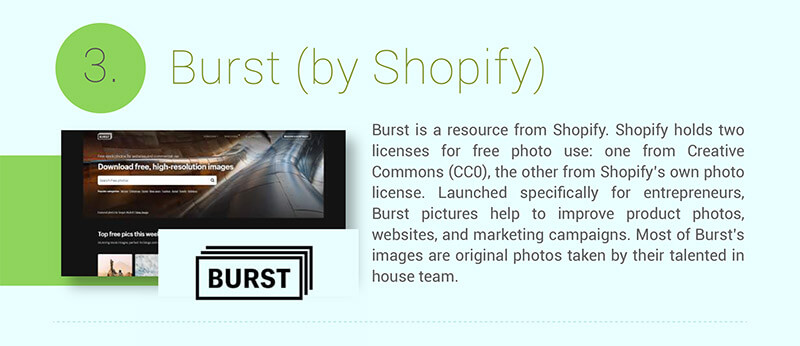 Burst is a resource from Shopify. They also provide free stock photos for entrepreneurs. Shopify holds two licenses for free photo use: one from Creative Commons (CC0), the other from Shopify's own photo license.
Launched specifically for entrepreneurs, Burst pictures help to improve product photos, websites, and marketing campaigns. Keep in mind, Shopify is an e-commerce site designed specifically to help small businesses sell online.
Most of Burst's images are original photos taken by their talented in house team. The great thing about Burst is that they are themed around trending businesses and trending niches. They also have general photographs as well. Depending on your company, this could be a gold mine for you, or you may have better luck finding the right picture someplace else.
Learn more about increasing the speed of your Shopify site if you have one. The speed of your website has a significant impact on your SEO. Even if you have curated the perfect images, if no one can see them, they do your company no good.
4. Reshot

Reshot has a massive library. They also handpick free stock photos you won't find elsewhere. Reshot was built with startups, freelancers, and makers who are sick of tacky stock photos, in mind. Their photos are free to use commercially and editorially, no attribution required. Their mission is to unify creators and elevate creative projects.
Reshot also has the goal of providing the world's best-emerging photographers with a platform to expand their professional reach. Creative people are not 9-5ers. They live their passion, and their lifestyle follows. Along with providing content for businesses, they act as a muse for other creatives in need of inspiration using the world's best imagery.
Their goal is to unify creators via a free exchange of the world's best visual content. They make something from nothing using their unique, visual, perspective on the world.
5. Pixabay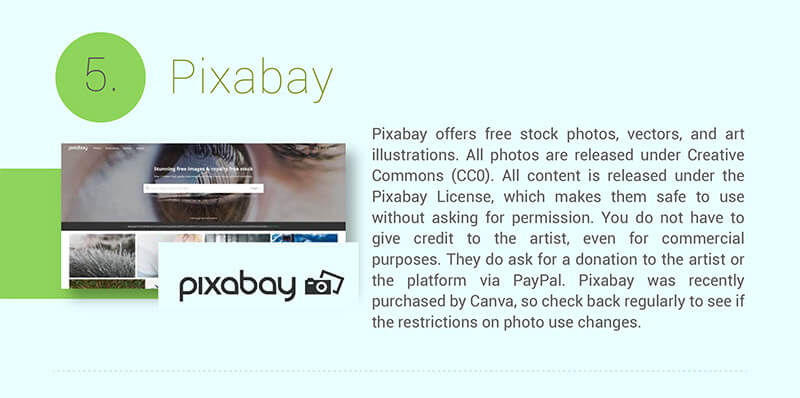 Pixabay offers free stock photos, vectors, and art illustrations. All photos are released under Creative Commons (CC0).
Pixabay is a vibrant community of creatives, sharing copyright free images and videos. All content is released under the Pixabay License, which makes them safe to use without asking for permission. With this site, you do not have to give credit to the artist, even for commercial purposes.
In response for their beautiful images, they do ask for a donation to the artist or the platform via PayPal.
Pixabay was recently purchased by Canva, so check back regularly to see if the restrictions on photo use changes.
6. Free Images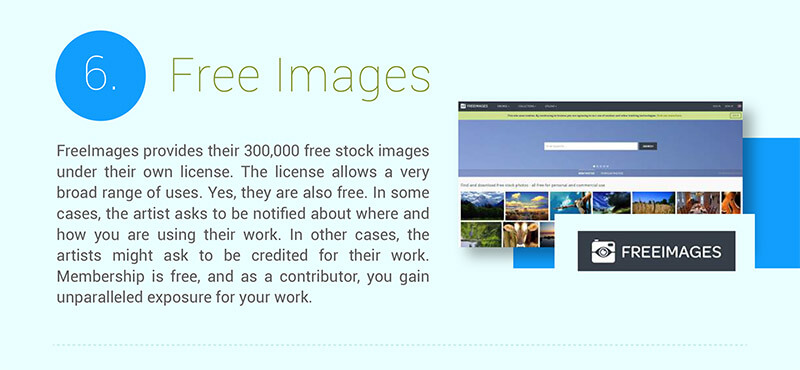 FreeImages provides their 300,000 free stock images under their own license. The license allows a very broad range of uses, though it has several restricted use cases (which are quite common for most free images sites).
Freeimages launched in 2001 in response to the existing expensive stock photography. Their goal was to create a site to share photos for inspiration and freelance work. It has evolved into a massive community. Presently there are over 2,500,000 registered users and around 400,000 photos online.
Yes, they are also free. However, as with most of these sites, you need to stick to the rules of the licensing agreement. In some cases, the artist asks to be notified about where and how you are using their work. In other cases, the artists might ask to be credited for their work. They have made the restrictions easy to understand by including them under the image previews, right next to the Download button.
Membership is free, and as a contributor, you gain unparalleled exposure for your work.
Everyday hundreds of thousands of graphic designers, web developers, journalists, and webmasters from all over the world choose Freeimages as their destination for stock imagery.
7. Canva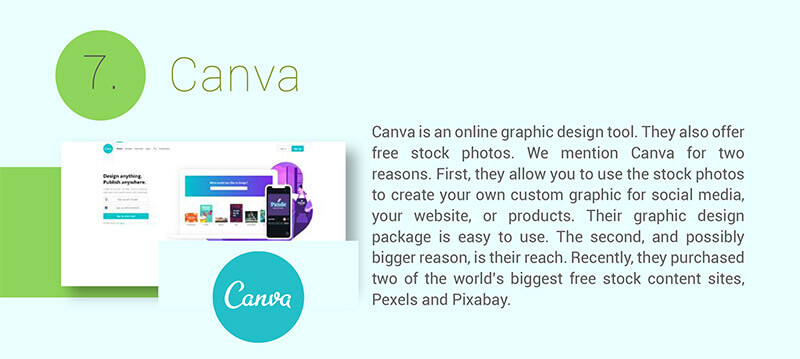 Canva is an online graphic design tool. They also offer free stock photos. We mention Canva for two reasons. First, they allow you to use the stock photos to create your own custom graphic for social media, your website, or products. Their graphic design package is easy to use. The second, and possibly bigger reason, is their reach.
Recently, they purchased two of the world's biggest free stock content sites, Pexels and Pixabay. This will increase Canva's free images and vectors by over 1 million.
We expect other exciting changes from this site as time goes on.
Ready to Take your Business to the Next Level?
There is so much more to digital marketing than quality photographs. If you are unsure if your digital marketing needs support, click here for a digital marketing assessment.
Our firm is able to assess your current digital marketing plan and offer suggestions for improvement you can implement. If your company is growing, and you cannot keep up with the continual evolution of digital marketing, we can handle that for you as well.
Owner and Chief Marketing Officer, Jason Hall, and his team specialize in creating brand awareness / traffic and lead generation / marketing funnel and conversion optimization, while utilizing the appropriate marketing channels available within your industry. With diverse clients throughout the world, Jason's team is well connected within many industries to assist with your marketing strategies. With no long term contracts and various levels of service, Jason's team will increase the quality of your online traffic, leads, and sales.
Free Website Audit Tool
See how well optimized a web page, landing page, or blog post is for an exact keyword or phrase
About the author...
Located in the heart of the Emerald Coast - Destin, FL, founder and Chief Marketing Officer, Jason Hall, and his team specialize in creating brand awareness / traffic and lead generation / marketing funnel and conversion optimization / and PR campaigns, while utilizing the appropriate marketing channels available within your industry.
With diverse clients throughout the world, Jason's team is well connected within many industries to assist with your marketing strategies. With no long term contracts and various levels of service, Jason's team will increase the quality of your online traffic, leads, and sales.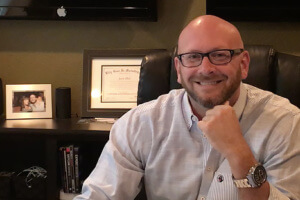 Request a digital marketing strategy session today and we'll show you what you've been missing!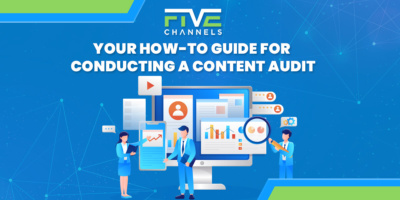 If you're trying to hit all of your marketing goals, never forget that success leaves clues. More than 80% of…