Did you know that, according to Broadband Search, 5.40 billion people around the world use the internet? In terms of percentages, that means that 57% of the global population is online.
Considering these numbers, it's no surprise that getting the right attention from the right people online can make your business successful. One of these ways of getting attention is by generating paid traffic.
Like so many of the different elements that make up a robust digital marketing strategy, there's a lot to understand about paid traffic, from how it's different from organic traffic, to how to use it on different platforms.
It's a confusing topic to understand, and with so much of your advertising efforts (and money) being used, it's important that you understand the ins-and-outs of paid traffic. Otherwise, you might spend that effort and money without getting much in return.
That's why we've put together this guide. By providing you with the right information, you can understand how to make the most of your paid traffic. That way, you can get more customers, make more money, and run a more successful Destin business.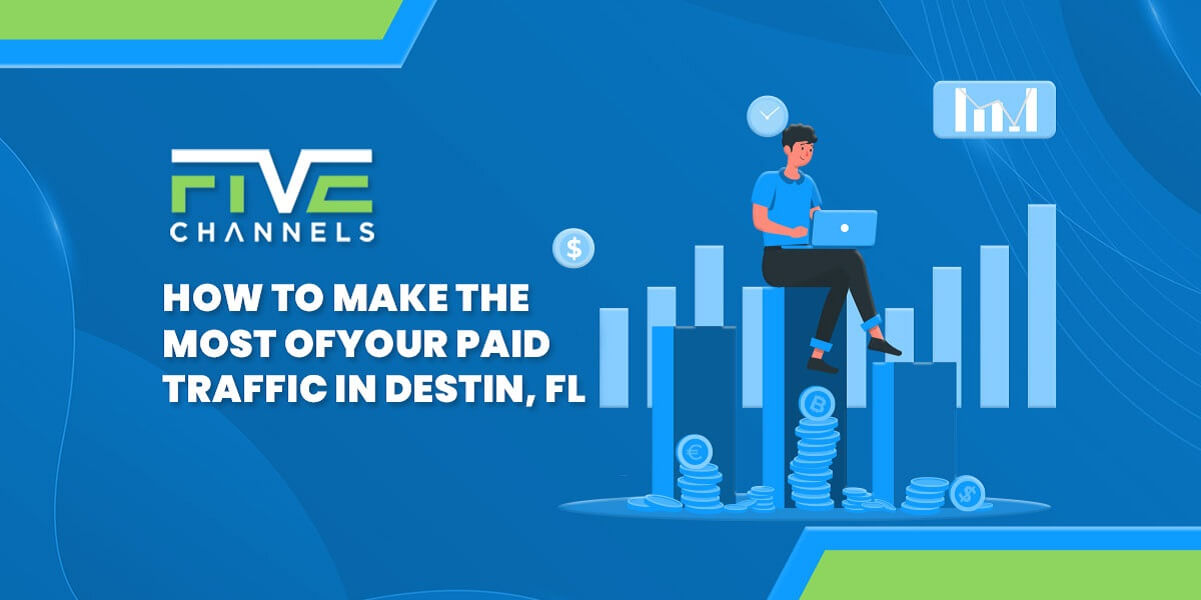 Let's Talk About Traffic
Before we get into the art of paid traffic, it's important for us to review what traffic is. That way, when we're covering more complex topics later such as analytics, you'll find it easier to understand the complexities of those topics.
Traffic itself is related to how many people visit your business's website.
In addition to getting those numbers, you'll also receive analytical information about how visitors were able to find your website, as well as where they came from before arriving at your site.
This is useful information, especially once you start using analytics to understand how to get more attention from those same types of visitors.
There are two ways you draw traffic to your site: organically and paid. Let's review their differences so you can understand how to best use these methods.
What is Organic Traffic?
Organic traffic, for a long time, could be an effective way of drawing visitors to your website. Unlike with paid traffic (which we'll cover in a moment), everything about organic traffic is free. You put in some efforts to draw in visitors, but you aren't paying for any of them.
Generally speaking, you might draw people in with content you don't pay to put out there, such as blog posts, videos, articles, free webinars, and more.
When you're ready to put it out into the world, you simply do just that, using unpaid strategies such as SEO and writing high-quality content, hoping that your readers will eventually come across your website either via a Google search or on social media.
Given that so many people are competing to be found by customers online these days, the organic traffic route can get quite oversaturated with many distractions. That's why you might want to consider using paid traffic only, or a combination of both.
Paid Traffic Versus Organic Traffic
In many ways, generating paid traffic is a better choice than generating organic traffic. Even though you have to pay for paid traffic (that's where the name comes from), in every other way, you're likely to benefit.
In fact, if you're one of those people who believes that time is money, and what business leader doesn't, then you will eventually lose money if you only focus on organic traffic.
Think about how much time you'll have to spend on creating organic traffic.
While it's great to slowly build up your company with blog posts and other content that demonstrates your brand, you have to put in a lot of work and time to do this, as well as posting it regularly.
This means, in addition to creating content, you'd have to create a content calendar and post regularly on social media when sharing this content. While this is a great way to build a loyal following slowly over time, it doesn't guarantee you will.
All those hours that you've spent working on building your following when you have only a hundred or fewer followers? That's time you could have spent doing other things to build your business, which means you've lost money because of the opportunity cost.
Paid traffic, on the other hand, will get people on your site fast. By paying to have your content appear to more people on social media platforms, on Google ads, and with PPC advertising, you'll get paid traffic to your website.
Different Ways to Use Paid Traffic
To understand whether you want to pay for paid traffic, it's important to understand the different ways you can use it. Usually, this means paying for ads on LinkedIn, Twitter, Facebook, and Google.
Paid Traffic on LinkedIn and Twitter
Depending on what your needs are, you might benefit from putting up ads for your business on LinkedIn or Twitter. Especially if you offer professional services in the B2B sphere, you could benefit from the fact that, with LinkedIn, you can message leads directly.
By figuring out which industry you want to focus on with LinkedIn ads, you can get leads that way, too.
As for Twitter, you can boost tweets so that many people see them, or target who you want to see your ad. If any of your leads spend time on Twitter, it's worth paying for this service.
Paid Traffic with Google Ads
Google ads are another great way to generate paid traffic. Instead of having to put in all that work to naturally get near the top of Google results using the right SEO strategies, you can pay to appear in the ads on the side of the page.
All you have to do is tell Google, when creating your ad, what keywords you want to be associated with your ad when people put them into the search field. Additionally, you can decide on negative keywords, which means that certain terms won't bring up your ads.
That way, you'll mostly get people searching for services or products related to what you sell when you pay for Google ads.
The best part of all this? You only pay for them when someone clicks on them.
Paid Traffic with Facebook Ads
Finally, there are Facebook ads. By paying to have Facebook ads appear on people's timelines while they scroll, people are more likely to come across your content, which will then lead them to your website.
The best thing about Facebook ads is that, when putting them up, you can target those who sees your ad, based on their behavior, and demographics such as where they live, how old they are, and what their interests are.
In addition to using Facebook ads to get more leads and traffic, you can also use them to raise awareness about your brand. Depending on your needs, you can choose which Facebook ad campaign suits you best at the time.
How to Make the Most of Your Paid Traffic
There are several ways you can make the most of your paid traffic. By using the right strategies, you'll get leads who are interested in your products or services, converting them into loyal customers who return to your website time and time again.
Know Your Audience
When you're creating advertisements for paid traffic, whether you're using PPC advertising services or creating the advertisements on your own, you need to know your audience. The content and style of the advertisement should draw them in, so do your research.
This means knowing demographic details such as where they're based, what they do for work, how old they are, whether they're married or having a family, and what their needs are.
When creating ads, you might create separate ads if you have different audiences.
In addition to knowing what you need to create these ads, it's worth studying your audience's behavior once you've put the paid traffic advertisements up. Pay attention to what they do when they click on your ad. Do they check out your content? Buy a product?
You can change your ads and reconfigure who you're targeting the next time you use paid traffic based on these observations, so that your paid traffic is more effective in the future.
Focus Your Content on Products or Services
Considering that you're paying for paid traffic, you might as well make some money back by making it more likely that visitors to your site will not only visit, but also purchase your products or services.
To do this, focus your content on products or services when you create it. Whether you're putting up videos or blog posts, find out what you're best-selling products or services are, and create content about those.
This content can include informative articles, news pieces, tutorials on how to use your service or product, and reviews.
Ask Your Customers What They Want
Given that the organic traffic world is oversaturated, and paid traffic is getting there too, you need to make sure that all the content and advertisements you're creating are going to both reach your customers and interest them.
To do this, you can ask your customers what they want directly. Have them fill out surveys whenever they purchase a product or speak to a customer service representative. If you want to incentivize them, give them the chance to win something in return for their opinion.
Use Your Words Correctly
When creating an advertisement that will end up on social media, you need to think about not only the design but also the words that accompany it. If you've ever seen a post on social media that looks like it just works, that's because the words with it need to engage readers.
To do this, you'll want to use the AIDA strategy, which stands for: attract, interest, desire, and action. By having all of these present in the text, you'll draw potential leads into wanting to click on the advertisement itself.
Use Power Words
Use power words to get more people to click on your ads. Power words include words such as "hacks," numbers, "double," "triple," "revolutionize," and "transform." Basically, any words that are loaded and likely to make your customers think that clicking on your ad will change their life or business is a power word.
When using power words, put them in the headline of your ad, so that your potential leads will get excited and want to click when it comes up on their screen.
See What Your Competitors are Doing
One of the best ways to get ahead in the marketing game is by seeing what your competitors are doing. What do their advertisements look like? Do they have a certain kind of color scheme they use, and what images are they including?
What do they offer their visitors, when they click on their ad? How does their copy read? By taking a look at what your competitors are doing, you can get an idea of what your paid traffic ads should look like.
Get More Tips for Your Destin Company
Do you need more tips to make your paid traffic more effective? At Five Channels, we can give you more tips, and answer any questions you might have. We also offer services to help you perfect your paid traffic efforts and other digital marketing strategies.
An offer we have going on now is a special very limited time offer, where we give you the first 30 days free including a website audit and a long-term digital marketing strategy. Click here to learn more about this exciting opportunity.
Owner and Chief Marketing Officer, Jason Hall, and his team specialize in creating brand awareness / traffic and lead generation / marketing funnel and conversion optimization, while utilizing the appropriate marketing channels available within your industry. With diverse clients throughout the world, Jason's team is well connected within many industries to assist with your marketing strategies. With no long term contracts and various levels of service, Jason's team will increase the quality of your online traffic, leads, and sales.
Free Website Audit Tool
See how well optimized a web page, landing page, or blog post is for an exact keyword or phrase
About the author...
Located in the heart of the Emerald Coast - Destin, FL, founder and Chief Marketing Officer, Jason Hall, and his team specialize in creating brand awareness / traffic and lead generation / marketing funnel and conversion optimization / and PR campaigns, while utilizing the appropriate marketing channels available within your industry.
With diverse clients throughout the world, Jason's team is well connected within many industries to assist with your marketing strategies. With no long term contracts and various levels of service, Jason's team will increase the quality of your online traffic, leads, and sales.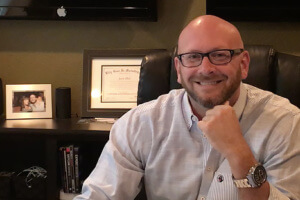 Request a digital marketing strategy session today and we'll show you what you've been missing!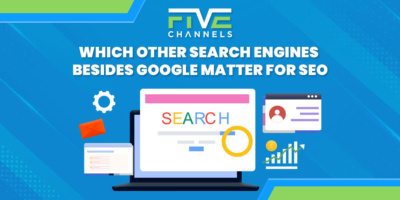 Are you struggling to improve your online presence and boost your website's SEO? Google is the most popular, but optimizing…