You know you need to be everywhere online. All the gurus are saying it, but how can you build your digital blueprint for your business when you're so strapped for time?
You have a business to run, clients to call back, and payroll to get finalized. The last thing you have time for right now is optimizing your social media accounts. 
That's why you've decided to outsource your digital marketing. Let someone else take care of it so you never have to think about it again. 
Not so fast. 
You still need to avoid the many marketing scams out there. After all, this is your business we're talking about. It's your name on the sign out front, therefore, you still need to know what is happening on every level of your business. 
This includes offline as well as digital. 
However, how can you know if that person who just emailed you offering to get your website to the first page of Google is legit? How can you know if they are worth the big price tag to make your website look truly professional?
Don't worry, there are tell-tale signs to know if you are dealing with someone legitimate.
First, let's go over common digital marketing scams and why you need to be an informed customer. Then, we can look at five examples of scams which should be bright red flags that make you run for the hills.
Furthermore, you can see five tips you can implement right now to vet the next digital marketer who promises you the moon with little to show for how they will accomplish getting you there.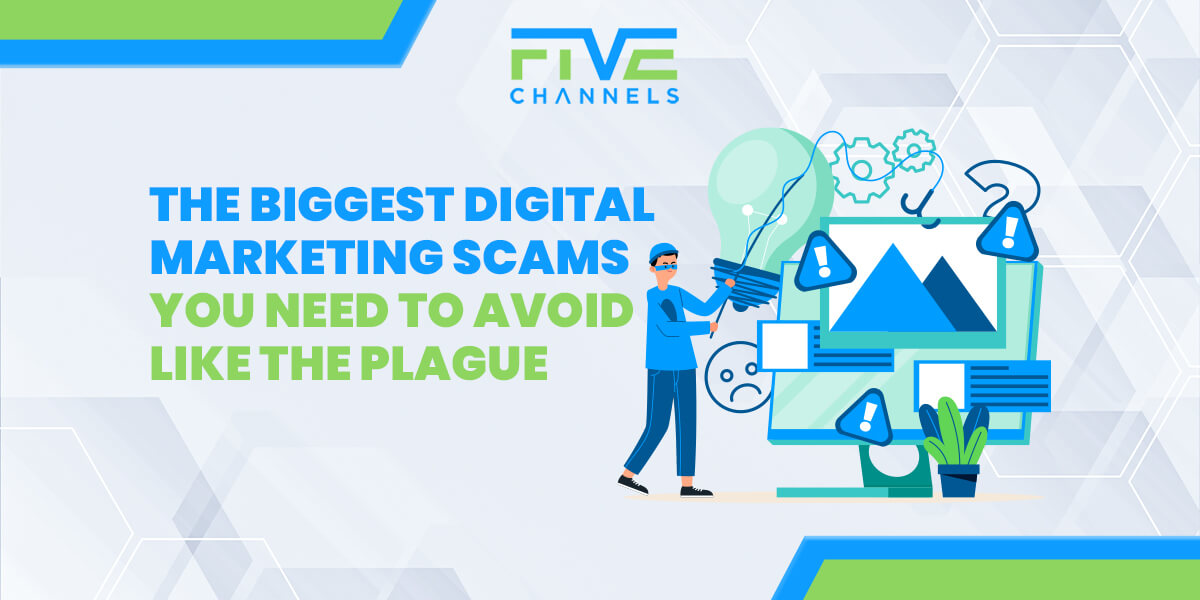 Digital Marketing Scams
Don't let anyone tell you SEO is dead, quite the contrary, it's more important now than ever.
What most people traditionally think of when they think of optimization is keyword stuffing and linking to directories. That is dead. Searching online for what you need, is more alive now than ever before.
Every single second there are 63 million searches done. This comes out to 228 million searches per hour, and the average person uses Google three to four times per day. 
There are several ways you can get your business found online. From Google searches to social media to paid advertising, digital marketing is a booming business. 
As in any business, contractors can't guarantee outcomes, but they can guarantee inputs. You want to work with digital marketers who can articulate exactly what they will do for you. If they spend too much time ensuring results they can't control, consider that a red flag. 
Example 1: Buying Followers
Remember how The Beatles said, You Can't Buy Me Love? Well you can't buy friends either. Whether it's online or digital, fake friends will burn you every time.
Followers are vanity metrics. Who cares if you have a million followers if none of them want to do business with you? You aren't a celebrity or influencer.
You run a serious business and you need serious customers who will pay you for your product or service. Fake followers won't increase your business. Look for a marketer who will focus on finding your ideal customer for your specific business and increasing engagement marketing and understanding your ideal customer. 
Example 2: Fast Track SEO
While some celebrities can pull off amazing black hats, you want to stay as far away from them as possible. If they're offering to implement a simple hack or trick that nobody else knows to get your site to the coveted top spot on Google, chances are they are going to be practicing shoddy, black hat work. 
You can't risk your website getting blacklisted by Google due to these seemingly innocuous tips or hacks. Only work with companies who use white hat SEO tactics to ensure you stay in Google's good graces. 
Outside of creating amazing and helpful content about topics that your customers are searching for; you won't be able to reach the top spot on Google. There are no shortcuts here, don't let them tell you that they discovered the one secret to success. 
Example 3:  Custom Websites at Rock Bottom Prices
Chances are you're getting a template. If you want a premium, custom website, expect to pay premium prices. The same is true with your content.
If you want original content, expect to pay for it. Otherwise, you could end up with PLR content and will get dinged by the search engines for unoriginal and duplicate content.
Example 4: Outsourcing for Bad Content
If they're offering articles at rock bottom prices, chances are they are outsourcing their articles to writers who are not native English speakers.
Don't pay a middleman. There isn't anything wrong with hiring overseas. Many successful companies do it every day.
However, if you wanted to hire a team of freelancers off Fiverr, you can do that yourself. Save yourself the headache and increased pricing of an expert who isn't doing the work themselves. 
Example 5: Pricing That's Too Good to be True
Remember, you get what you pay for. There is a reason this saying has been around forever. It's as true now as it has ever been.
Don't be fooled by prices that are quite a bit below fair market value. You won't get the same experience or the same quality of work as you would if you went for the fair market value price. 
Additionally, just because someone is charging outlandish pricing doesn't automatically make them an expert.
Tip 1: Ask for References
Once you get those references, call them. Even new marketers should have references. Ask for referrals from previous jobs. 
Ask to be connected to some of their former colleagues on LinkedIn. If they are adamant about not providing any references, consider this a red flag.
The majority of clients won't check references. Scammers are banking on that fact. Be the minority and check with their former clients. 
Ask poignant questions instead of a simple yes/no question. Inquire as to the results the client was able to see thanks to their work with this marketing specialist or agency. 
Ask their former clients if they felt heard when they voiced concerns or had questions. These kinds of interactions can make even a successful campaign futile if it leaves you feeling uneasy. You will be working closely with this person for a long time, and the hope is that you find a great marketer who can help you take your business to the next level and help you find your next big client.
So, you want to find someone who will listen to you when you call with questions and not ignore you, or worse, make you feel inferior for asking for clarification. Yes, they are the expert, but they should also be open to explaining their process and how it will help your business in the long run. 
Tip 2: Ask Them Questions
As mentioned above, a good working relationship is built on trust and understanding. You shouldn't be made to feel like your questions aren't valid. This is your business, and you have the right to know what is happening with your website. 
Many times, your website is the first impression you make with a potential client. It needs to be professional. It needs to be up and running without any problems.
A good digital marketer should be able to answer basic questions about their workflow and what can be expected when working with them. When asking about their workflow, ensure that you'll get regular reports.
They might be leery of sending daily reports, but at the very least weekly and monthly reports should be provided as they work on your project. Additionally, ask which metrics they will be using, and if these will be included in your regular reports.
Ask what sort of information is provided in each report. If they can't answer this, consider it a red flag. If they're creating a custom website for you, this could take months, but you should get regular reports on their progress. 
As mentioned before, SEO is a long game, so be prepared to sign a long term contract. However, they should still provide regular reports with your traffic and engagement numbers monthly and quarterly
Tip 3: Do Your Own Homework
Check out their own website, does it seem custom? How is the SEO on their website? Is their content well written? Is their content following SEO best practices, if they aren't doing it on their business' website, they won't follow them on yours either.  
Do a quick Google search. Is it mostly paid ads mentioning them, or are they mentioned organically on any websites? Have they been featured on prominent websites or podcasts?
You want to do your homework to ensure that you work with the very best in the industry. There are great digital marketing agencies out there, you'll just have to know what you're looking for, and what you're not looking for, in order to find the best one for you.
Tip 4: Verify Their Work History and Credentials
Just because someone is brand new to digital marketing doesn't make them a scam. If they didn't have any (or had very few) references, but they were recently in the corporate world, reach out to some of their LinkedIn connections and just verify their credentials.
As you're checking out their website in the tip above, you can verify their capabilities and work history on their website also. They should have utilized SEO best practices, they should have great content on their blog, and they should have engaging and valuable content on their social media accounts.
10,000 followers and only a dozen followings might signal a red flag. Recently created accounts should also be a warning sign they are too new to trust with one of your biggest projects. 
Tip 5: Follow Your Gut
As mentioned earlier, if it sounds too good to be true, listen to that intuition. It could save you time and money, both things you can't afford to lose.
Create an exit strategy. While entering any relationship with an exit strategy isn't ideal, this is business. Include in your contract that missed deadlines, regular reporting, or budget overspend won't be tolerated. 
Don't Get Hoodwinked – Use These Examples and Tips
Ask ten small businesses about their history working with freelancers or agencies in digital marketing and you will likely hear eleven horror stories about shoddy work, missed deadlines, and overspending. However, with a little homework upfront and clear expectations, you can help mitigate the bad experiences for your own business.
Ensure your business doesn't end up another example of somebody's horror stories on digital marketing scams. Do your homework so you can make the best decision for your business. 
There are many legitimate digital marketers out there who genuinely want to help you build your business. Here at Five Channels, we spell out exactly the strategies we use with all five marketing channels. You are never left in the dark and your questions are welcomed. 
We want to work with you. If you're ready to take the next step so your business can get found by more customers, then let's talk. Schedule your digital marketing review today so we can show you exactly how we can help your business. 
Owner and Chief Marketing Officer, Jason Hall, and his team specialize in creating brand awareness / traffic and lead generation / marketing funnel and conversion optimization, while utilizing the appropriate marketing channels available within your industry. With diverse clients throughout the world, Jason's team is well connected within many industries to assist with your marketing strategies. With no long term contracts and various levels of service, Jason's team will increase the quality of your online traffic, leads, and sales.
Free Website Audit Tool
See how well optimized a web page, landing page, or blog post is for an exact keyword or phrase
About the author...
Located in the heart of the Emerald Coast - Destin, FL, founder and Chief Marketing Officer, Jason Hall, and his team specialize in creating brand awareness / traffic and lead generation / marketing funnel and conversion optimization / and PR campaigns, while utilizing the appropriate marketing channels available within your industry.
With diverse clients throughout the world, Jason's team is well connected within many industries to assist with your marketing strategies. With no long term contracts and various levels of service, Jason's team will increase the quality of your online traffic, leads, and sales.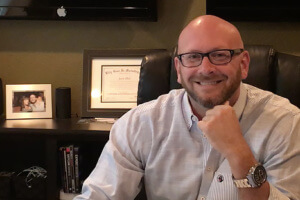 Request a digital marketing strategy session today and we'll show you what you've been missing!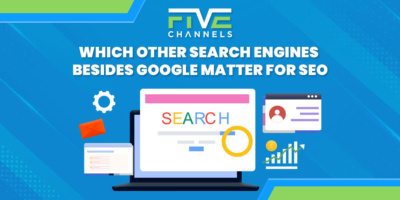 Are you struggling to improve your online presence and boost your website's SEO? Google is the most popular, but optimizing…