If you're spending all of your energy trying to reach customers through social media, you might want to reconsider. Email is still a more effective way to acquire customers. In fact, 80% of small retailers claim that email marketing drives customer acquisition and retention.
As a business owner, you need to spend your marketing budget on strategies most likely to improve your ROI.
It's time to unlock the unlimited potential of B2B email marketing. Make the most of your next email marketing campaign and start drumming up new business.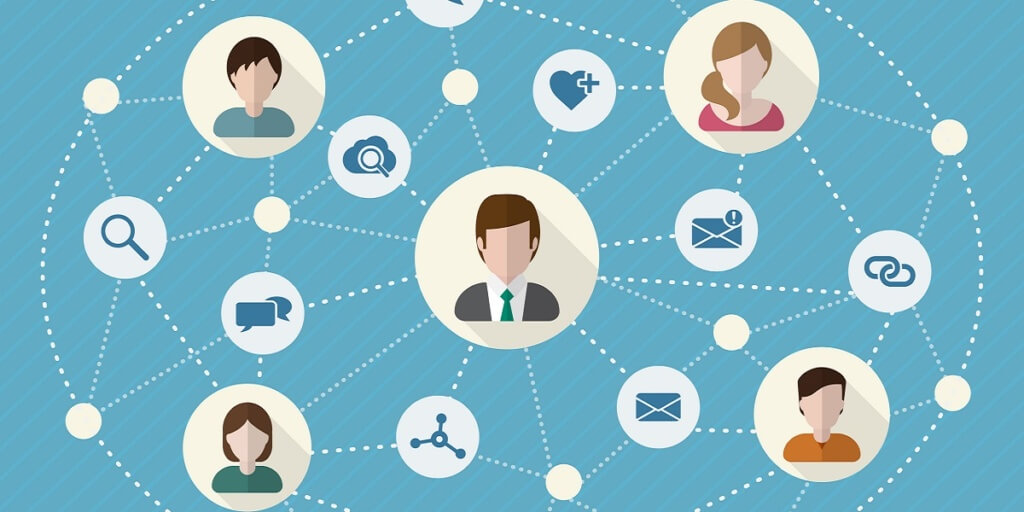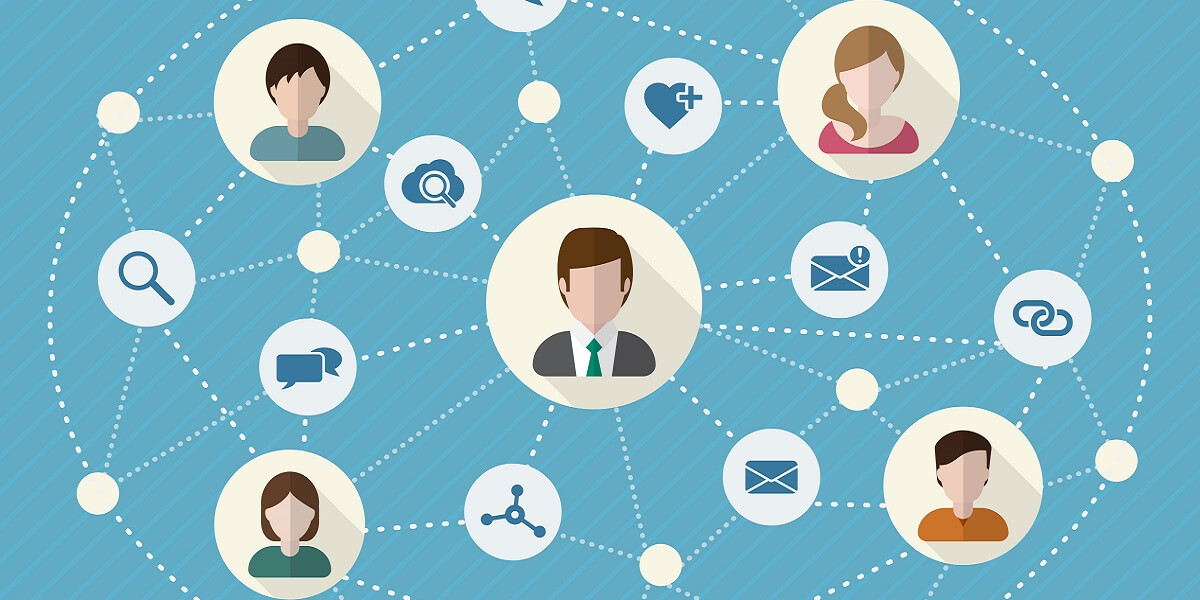 The Benefits of B2B Email Marketing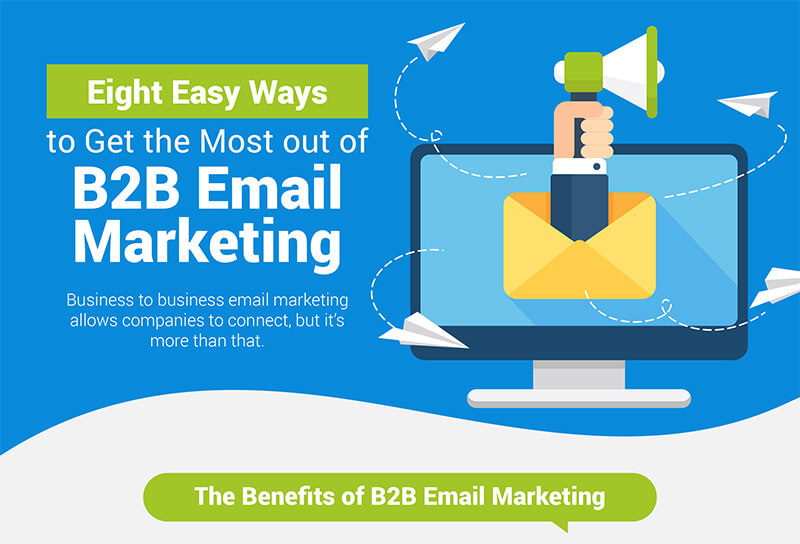 Business to business email marketing allows companies to connect, but it's more than that. It's estimated that there will be nearly 255 million email users in the U.S. by the end of 2020.
With half of the global population using emails, there's an abundance of opportunities to reach your target audience. The benefits don't stop there either. Here are a few of the ways you can benefit from B2B email marketing.
1. Create Credibility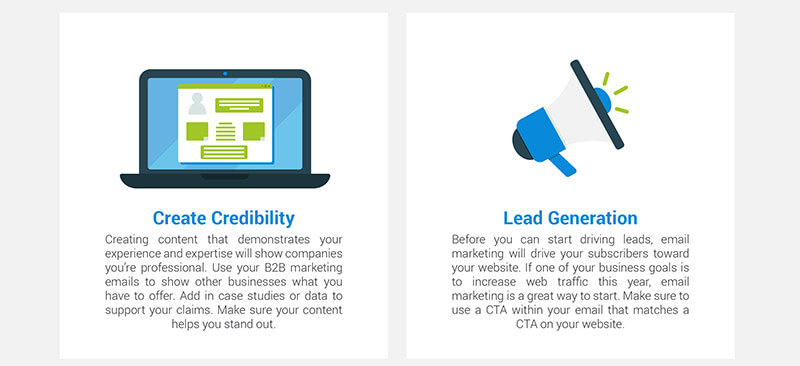 Companies want to work with the best in the business. After all, the strongest partnerships are built on a foundation of trust. In order to start building that trust, however, you need to show companies you're a credible resource in your industry.
Sending out professional B2B emails shows other companies you're a contender.
Creating content that demonstrates your experience and expertise will also show companies you're professional. Rushed worked, typos, and lackluster designs, however, can make your company look out-of-date.
Instead of falling behind the competition and collecting dust, step into the spotlight.
Use your B2B marketing emails to show other businesses what you have to offer.
Marketing emails give you the chance to demonstrate your expertise using informative content. Add in case studies or data to support your claims.
Make sure your content helps you stand out. What unique value do you have to offer? Connect that back to industry-specific situations to show you're experienced.
These emails will help you make an impact while showing companies they can trust you.
Once you develop that trust, clients will choose your business above the rest.
2. Lead Generation
In order to build your business, you need to start bringing in leads.
A compelling email and encouraging call-to-action can drive people to take action.
Whether you want to increase calls, form submissions, or online sales, B2B email marketing can help.
Before you can start driving leads, email marketing will drive your subscribers toward your website. If one of your business goals is to increase web traffic this year, email marketing is a great way to start.
Make sure to use a CTA within your email that matches a CTA on your website.
That way, subscribers and website visitors are directed toward the same action. From your website, you can use strong verbs, compelling language, and eye-catching buttons to increase conversions.
By using your emails to drive website traffic and increase leads, you're also rekindling interest in your business.
As a result, you can continue delighting your customers while increasing sales in the process.
3. Relate & Communicate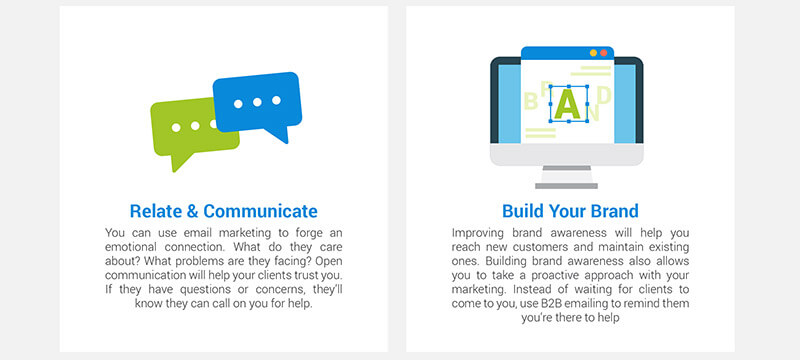 If you know your target audience, you can use email marketing to forge an emotional connection. What do they care about? What problems are they facing?
From there, you can use your B2B emails to spark a conversation.
Open communication will help your clients trust you. If they have questions or concerns, they'll know they can call on you for help.
By showing clients you relate to them, you can grow your audience. A deep connection will also help you establish brand trust and loyalty. As a result, customers are more likely to return when they need you most.
4. Build Your Brand
Do clients recognize your brand on sight? If subscribers haven't visited your website in a while, B2B email marketing can help you stay at the forefront of their mind. That way, they'll think about your company before going anywhere else.
Improving brand awareness will help you reach new customers and maintain existing ones.
Building brand awareness also allows you to take a proactive approach with your marketing. Instead of waiting for clients to come to you, use B2B emailing to remind them you're there to help.
5. Immediate, Easy Results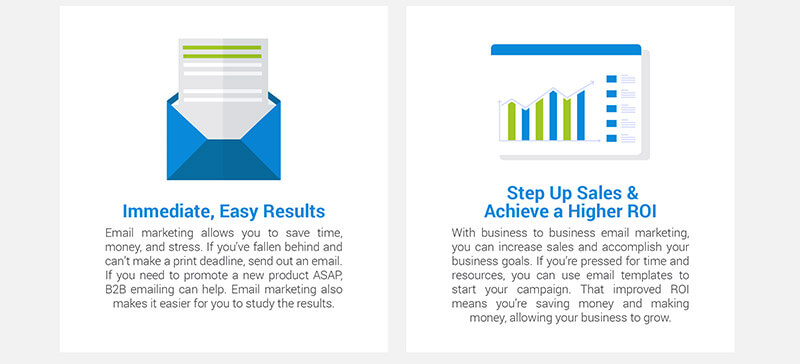 It's not difficult to create B2B marketing emails. Instead of waiting for traditional, print marketing methods to go out, you can send an email within a day.
Once you start sending out emails, you'll see fast, immediate results.
Email marketing allows you to save time, money, and stress. If you've fallen behind and can't make a print deadline, send out an email. If you need to promote a new product ASAP, B2B emailing can help.
Email marketing also makes it easier for you to study the results.
That way, you can pinpoint what's working to connect with your customers, and what isn't. From there, you can make immediate changes to your emails before the next batch sends.
6. Step Up Sales & Achieve a Higher ROI
According to research, email marketing has a median ROI of 122%.
Why waste time and money on marketing methods that are costly and ineffective? With business to business email marketing, you can increase sales and accomplish your business goals.
If you're pressed for time and resources, you can use email templates to start your campaign. You don't have to break the bank to start emailing.
That improved ROI means you're saving money and making money, allowing your business to grow.
Eight Ways to Improve Your B2B Email Marketing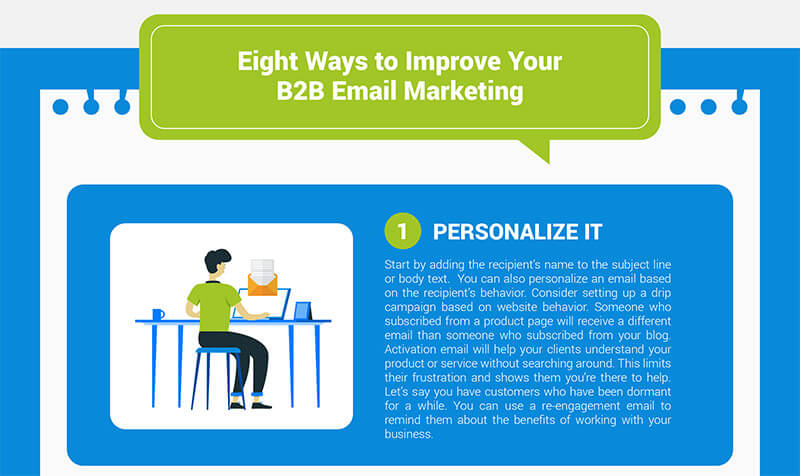 Ready to take advantage of the copious benefits of B2B email marketing? Now that you know how emails can boost your business, let's put them to work. Here are eight ways you can improve your next B2B email marketing campaign.
1. Personalize It
Personalized emails improve click-through rates by an average of 14% and conversions by 10%. Emails that take the personal approach also deliver six times higher transactional rates.
There are many ways you can personalize emails. For example, start by adding the recipient's name to the subject line or body text.
You can also personalize an email based on the recipient's behavior.
This tactic will ensure your online content appeals to your target audience's interests or concerns.
For this to work, it's important to segment your audience. For example, consider setting up a drip campaign based on website behavior. In this case, someone who subscribed from a product page will receive a different email than someone who subscribed from your blog.
There's also the activation email. When someone signs-up to use Asana's platform for the first time, Asana sends them an onboarding email. This email provides the new user with the information they need to get started.
An activation email will help your clients understand your product or service without searching around. This limits their frustration and shows them you're there to help.
You could also send a re-engagement email. Let's say you have customers who have been dormant for a while. You can use a re-engagement email to remind them about the benefits of working with your business.
For example, Dropbox will send an email that reads "Your Dropbox has been feeling kind of lonely" when it notices a lack of user activity.
Using these types of triggers will help you send emails based on specific needs. Then, email automation will do the work for you.
2. Reposition CTAs

Many people put there CTA buttons and links above the fold of their B2B marketing emails. Since subscribers spend the bulk of their time above the fold, this tactic makes sense.
However, positioning a CTA above the fold might overwhelm your subscribers.
Consider placing a button CTA above the fold, then a text CTA link near the bottom of your email. Make sure the CTA language is different but directs people to the same link. Then, check your data.
Which CTA received the most clicks? A/B testing can help you determine which tactic works better to improve your click-through rate and conversions.
3. Add Urgency

Don't scream at your clients in all caps with the hope they'll act quickly.
Instead, create authentic urgency in your subject lines and body text.
For example, consider adding a countdown. Maybe you have a special promotion that ends at a specific time. Adding these deadlines to your email will encourage subscribers to act now instead of later.
Don't extend your sales, discounts, or special offers.
When you mention a specific deadline in your email, stick to it. Make sure your landing page language reflects the same deadline, too. Otherwise, subscribers will delay taking action (or forget altogether).
4. Go BOLD

It's often best to keep your emails short and sweet. Otherwise, you risk losing the readers' attention. After all, businesses are busy running their own companies.
If you have a long sales email and want to make sure your content stands out, bold it.
This tactic is an easy way to make sure bulky content still makes an impact.
People skim-read and rush through emails. Bolding a few lines within your content will help draw the reader's eyes.
By bolding certain words or lines, you can get your point across, even if someone's skimming through your content. Make sure not to overdo it, though. Otherwise, you could come off as aggressive within the email.
5. Build Anticipation

"Pay attention now." "You don't want to miss this." "This might come as a surprise, but…"
Are you trying to generate excitement for a new product or service? Using this type of language can help you drum up anticipation.
Don't get straight to the point in the first line of your email.
Instead, draw it out.
Then, hit them with the good stuff. What are people gaining from your product or service? Why should they care?
Remember to think about your audience. Segmenting your list can help you create anticipation based on what your clients care about most.
Then, give them a reason to feel excited.
6. Make an Announcement

Many companies use B2B emailing to announce changes, new products or services, and big news.
This tactic can help you remain at the forefront with your clients. If you've recently won an award or received recognition in a publication, it can also add to your company's credibility.
Show your clients what you're up to. If something's changing, let people know.
Announcement emails can also show your clients you're taking action.
For example, Uber used an announcement email after publicized criticism about its management. In the email, Uber informed its customers that there would be changes to the leadership team.
This allowed Uber to appear honest and transparent with their customers. As a result, they were able to regain their customers' trust by keeping those customers informed.
7. Show Support

Marketing B2B means you're there to help your clients grow. Show your support!
What are you trying to help your clients accomplish? For example, Moo uses emails to show how their designs can help other companies make a strong impression.
These emails allow Moo to demonstrate their value. By focusing on how they're able to help their clients, email recipients will see the benefit of working with Moo's business.
Focus on what you're able to offer your clients. Then, take it from their point of view. How does working with you help benefit their business?
8. Review (and Review Again)

Once you start using these email tactics, watch the results roll in.
It's important to review the data. Study your open rates and click-through rates.
If your open rate is low, change your subject line. If you're struggling with click-through rates, change your design, text content, or CTA.
Use A/B testing to determine what works, and don't be afraid to change it up.
Make the Most of Your B2B Email Marketing
Ready to make the most of your next B2B email marketing campaign? With these tips, you can start reaching clients, connecting, and growing your business. Instead of wasting money on costly tactics, try improving your marketing budget's ROI with email marketing today.
Not sure if your current campaign is running okay? Request a free digital marketing review from our team to optimize your campaigns.
Owner and Chief Marketing Officer, Jason Hall, and his team specialize in creating brand awareness / traffic and lead generation / marketing funnel and conversion optimization, while utilizing the appropriate marketing channels available within your industry. With diverse clients throughout the world, Jason's team is well connected within many industries to assist with your marketing strategies. With no long term contracts and various levels of service, Jason's team will increase the quality of your online traffic, leads, and sales.
Free Website Audit Tool
See how well optimized a web page, landing page, or blog post is for an exact keyword or phrase
About the author...
Located in the heart of the Emerald Coast - Destin, FL, founder and Chief Marketing Officer, Jason Hall, and his team specialize in creating brand awareness / traffic and lead generation / marketing funnel and conversion optimization / and PR campaigns, while utilizing the appropriate marketing channels available within your industry.
With diverse clients throughout the world, Jason's team is well connected within many industries to assist with your marketing strategies. With no long term contracts and various levels of service, Jason's team will increase the quality of your online traffic, leads, and sales.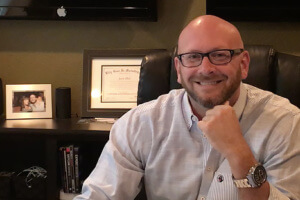 Request a digital marketing strategy session today and we'll show you what you've been missing!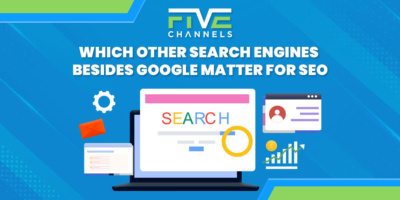 Are you struggling to improve your online presence and boost your website's SEO? Google is the most popular, but optimizing…