It's estimated that digital marketing spending could reach as much as $375 billion by 2021 worldwide.
With companies buying into this online approach so rapidly, businesses that aren't utilizing digital marketing will inevitably be left in the dust.
Lucky for you, your brand has a website set up and ready to go, so that's enough, right? Wrong.
With so many types of digital marketing, the days of targeting just one avenue are long gone. Your business needs a well-rounded approach to make an impact in this noisy online world.
So, how do you know what paths to take with your marketing efforts? Follow along as we break down the different types of digital marketing to help you decide which strategies are best for your business.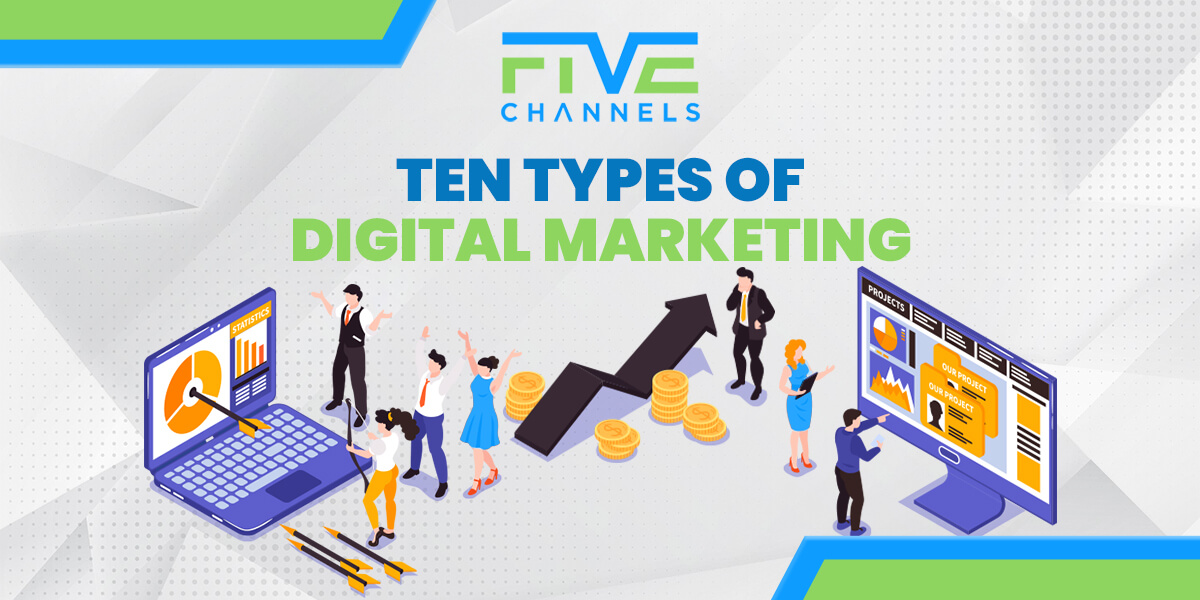 What is Digital Marketing?
Digital marketing is defined as online or electronically aided marketing techniques. Most businesses tend to think of one or two categories when approaching digital marketing strategies. However, the approach is actually much larger than this.
Every advertisement, email, and image that pops up on your mobile phone or web browser is a product of digital marketing. Often, we aren't even aware that we are being marketed to when it happens.
From searching for an answer on Google, to receiving a promotional email, every online avenue is open for marketers to promote products and generate revenue.
1. SEO
As far as digital marketing types go, SEO is one of the most well-known approaches. SEO, or search engine optimization, has remained a buzzword in the marketing community for several years. To understand how this method works, you must first have an understanding of how a search engine like Google operates.
The Google process comes down to three stages. First, the engine sends out millions of little Google bots called crawlers or spiders. These bots "crawl" content to gather information. When a page is published, the crawlers set to work and use links to jump from one page to the next.
Once the content has been crawled, the information is categorized and stored in Google's index. The index serves as a filing cabinet for all online content. Each category contains content that applies to a search query and is sorted or "ranked" in order of relevance.
The goal of a search engine is to produce the best possible answer for the user. When a query is performed, Google then resorts to the index to gather the relevant sources and display them in order of rank on the results page.
Rank is based on Google's algorithm to determine reliable sources. Marketers strive to appeal to Google's preferences and gain high-traffic positions at the top of the results page.
SEO techniques such as keyword use, backlink building, and optimized site performance, are used to make the website more search engine friendly and contribute to its ranking.
2. PPC
PPC stands for pay-per-click advertising. As you can gather from the name, this form of marketing uses paid ads to reach a larger audience.
These ads can be on search engine platforms, social media pages, or even mobile applications. They are specifically designed to capture attention and encourage the viewer to click on the ad.
For platforms like Google, marketers will bid on ads to display at the top of search result pages for specific keywords and queries. Since there aren't unlimited spaces for these paid promotions, some keywords will hold a higher click value and cost more to advertise.
Throughout the life of the advertisement, the clicks will tally up, and the company will be charged for the traffic it gained from the placement. This means that you only pay for the ad when it gains clicks on the page.
This decreases the risk of spending thousands of dollars on ineffective advertising, but a click does not necessarily convert to a sale. After advertising, the business then needs a high-quality website and user-friendly purchasing process.
3. SEM
Search engine marketing, or SEM, is the utilization of platforms including Google, Yahoo, and Bing to elevate the visibility of a brand. This strategy uses free and paid methods to accomplish a high positioning on a search engine results page.
With the knowledge that 91.5% of Google traffic is captured by the first page of results, marketers use this approach to land one of those prized spots.
Essentially, this is a blend of both SEO and PPC marketing to maintain high-rank positioning and drive the number of clicks to a webpage. This method will use the same practices as SEO to appeal to search engine algorithms. Be sure to optimize each new piece of content and promote faster crawling, indexing, and ranking.
Paid advertising then acts as an assistor to remain on top of the results while new content is being ranked and doubles visibility for that brand. Users will spot the URL once in the sponsored positions, and again when they scroll down. This increases the touchpoints the brand makes with the consumer and boosts their chances of a visit.
4. SMM
SMM, or social media marketing, is the practice of using social platforms to drive traffic. While the goal here is still to promote a webpage, and the sale of a product or service, the social media approach uses a much more subtle technique.
Brands that do well on social media maintain frequent posting schedules with an emphasis on engagement. Just like Google, all social sites have algorithms that rank content for the viewers. The difference is, instead of finding ranked content on a search page, it appears on their feed.
Marketers will work to gain access to feeds through paid advertising and generating engaging posts. The algorithm favors a high number of impressions, shares, comments, and bookmarks.
While some of these engagements hold more value than others, the key to a successful social media campaign is in the interactions.
5. Content Marketing
The content approach focuses on the value your business can offer using engaging avenues such as blogging, video, and images. While these content pieces relate to products or services the business offers, they serve as a free resource for leads to gain insight and information.
This strategy contributes greatly to the building of relationships with potential customers. Offering an excellent source of information builds trust, and producing omnipresent content allows users to be continually reminded of this brand.
Because the posts are covering subjects that users have questions about, they land on these pages with the intent to solve a problem. When your content can solve these problems, the user is then more interested in receiving your help for future issues.
This is the reason why the "info-for-free" approach works so well. When consumers categorize you as an authority for that particular subject, they are more likely to turn to your services when in need of help.
6. Email Marketing
This form of marketing is the king for lead generation and lead nurturing approaches.
Marketers obtain information from leads, and create emails geared to converting that lead into a sale. While email campaigns can be tricky due to consumer's low email-opening rate, many marketers have great success using this method in the sales funnel approach.
The key to a successful email marketing campaign is nurturing each lead with bucket-specific messages. This method includes categorizing where potential customers are reaching roadblocks, and sending customized messages based on where they left off.
For example, when a lead first registers interest, the marketer will send an email with a link or downloadable file. After three days, the company can then check in with the lead and use data to tailor that conversation.
If the link or download was accessed, you can follow up by asking what their thoughts were. On the other hand, if no action was taken, you can then gently remind the user to check it out and provide another easy to access link.
This process continues to guide the consumer through to the purchase. Afterward, this approach transitions to encourage brand loyalty and return customers.
7. Influencers and Affiliates
Influencers are the accounts on social media and other platforms that have large audiences who value their opinions. These online celebrities are often Instagrammers or YouTubers. They produce content for their followers offering advice or insight into their lives.
Brands can tap into these impressionable audiences by having influencers promote their product or service on their platforms. Of course, the product needs to fit into the influencer's branding to come across as a genuine recommendation rather than a pushy sales pitch.
These influencers are then paid for their promotional services as a set fee, or with an affiliate commission.
Affiliate marketing is the practice of offering influencers and other consumers the opportunity to earn money in exchange for advertising. Since humans are more likely to trust a friend for advice on a product than an ad, this system works wonderfully to reach a more relevant audience and drive sales.
The affiliate is given a code that they can offer to followers or friends. Often, this code has a discount attached for added incentive. When the new lead makes a purchase using the specified code, the affiliate associated with that code earns a commission for the sale.
8. Mobile
Mobile advertising carries over into many of the different kinds of digital marketing. As nearly half of online traffic comes from a mobile device, adapting marketing efforts for mobile-friendly use is incredibly important.
Social media ads can be tailored for this smaller screen, as well as search advertising and emails. In fact, many companies introduce text message marketing to their email campaign strategies. Since text messages have a higher open rate, it is often a more reliable way to reach consumers with key messages.
In terms of SEO for mobile, businesses strive to ensure all website functions are usable on a mobile device and perform at a high-quality level.
9. Television
Television has taken steps to the digital world in recent years with the rise of streaming services like Netflix, Hulu, and Amazon Video.
More and more consumers are canceling cable packages and sourcing their binge-watching sessions from online television providers. Marketers can tap into this viewing option and produce an image or video advertisement in place of traditional commercial breaks.
Businesses will often make these 30-second ads the foundation of their marketing campaigns and reinforce them with supporting efforts on other platforms. Each additional ad or post will refer to the original campaign and solidify the message.
10. Radio
Radio is now a part of the digital world. While this avenue used to be strictly airwaves, radio streaming is now highly accessible online. Radio ads can be used to sponsor upcoming content, promote events, or simply increase brand awareness.
With the rise of podcasts on Spotify and Apple Music, marketers can now tap into more niche markets as well. This is often a cost-saving element and can serve to place your brand in front of a more relevant audience.
While large radio stations are still a great option to build authority, choosing smaller stations that are a good match for your brand can produce just as many conversions as a higher-traffic source.
With Spotify, you can even tailor your ad reach to a specific location, age range, and gender. This combines traditional radio advertising with the advanced features of digital marketing campaigns to maximize results.
Mastering the Types of Digital Marketing
Now that you know the main types of digital marketing, you can tailor your marketing approach to utilize the best avenues for your business. From SEO to audio ads, you can optimize your efforts to drive sales, increase conversion, and maximize profit.
With these ten kinds of digital marketing, we're confident you'll be dominating the online world with content, ads, and mobile-friendly platforms.
Ready to top your competitors with a hands-free solution? Get in touch with us today to find out how we can take marketing off your to-do list and achieve amazing results.
Owner and Chief Marketing Officer, Jason Hall, and his team specialize in creating brand awareness / traffic and lead generation / marketing funnel and conversion optimization, while utilizing the appropriate marketing channels available within your industry. With diverse clients throughout the world, Jason's team is well connected within many industries to assist with your marketing strategies. With no long term contracts and various levels of service, Jason's team will increase the quality of your online traffic, leads, and sales.
Free Website Audit Tool
See how well optimized a web page, landing page, or blog post is for an exact keyword or phrase
About the author...
Located in the heart of the Emerald Coast - Destin, FL, founder and Chief Marketing Officer, Jason Hall, and his team specialize in creating brand awareness / traffic and lead generation / marketing funnel and conversion optimization / and PR campaigns, while utilizing the appropriate marketing channels available within your industry.
With diverse clients throughout the world, Jason's team is well connected within many industries to assist with your marketing strategies. With no long term contracts and various levels of service, Jason's team will increase the quality of your online traffic, leads, and sales.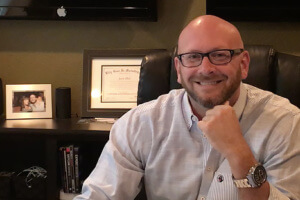 Request a digital marketing strategy session today and we'll show you what you've been missing!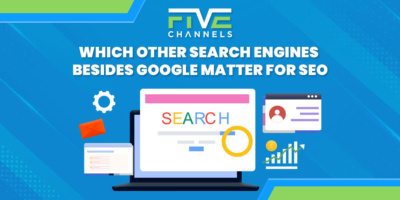 Are you struggling to improve your online presence and boost your website's SEO? Google is the most popular, but optimizing…