The never-ending rabbit hole of social media content that sucks you into its vortex can be so hard to put down. Which is exactly why it's one of the most effective marketing tools out there.
If you're a business, or trying to become one, you cannot ignore social media. In fact, if you're trying to market something, and you're not already on Instagram, you might as well be in the stone age.
Here are the hard facts: young people use Instagram more than any other social media platform. Over 1 billion Instagram accounts are active every single month, with 500 million of those actively engaging every day.
These numbers only continue to grow year over year.
So, forget whatever you heard about social media detoxing and lean in. Instagram for marketing is here to stay, so let's learn how to leverage it.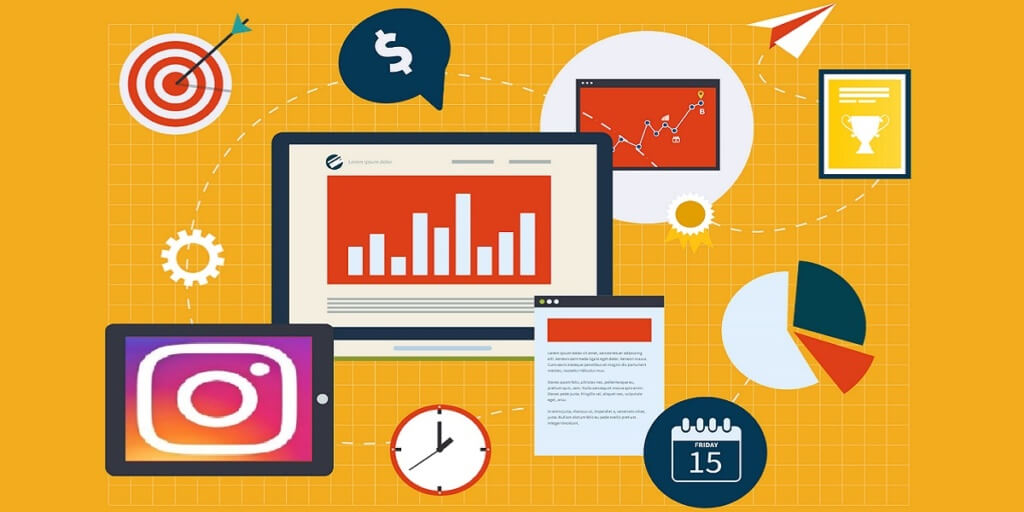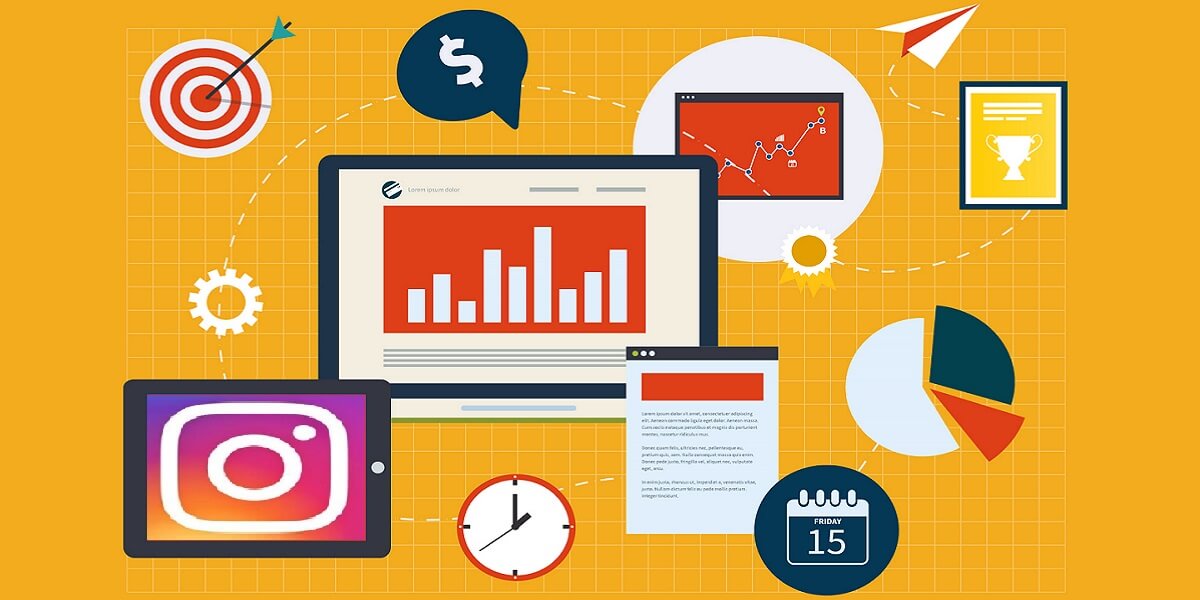 Be Inspiring
At its core, Instagram is a visual platform. The images and video you post on your news feed is the first thing that will catch a user's attention, not the language you use.
That's why it's important to first and foremost invest in quality photography and video content. Make sure you have a solid foundation of visually appealing branding to make your page beautiful. You want to show what you do in a creative way.
While doing so, it's important to keep your feed clean and intentional. This is your forever gallery of images and video that speak to exactly who you are, and what it is you are marketing.
Instagram Stories are where you can experiment, keep the feed highly curated.
Try to make the aim of your content to be inspirational, educational, or fun. Users want to feel like they're gaining something by following you. How-To's are a great way to attract a loyal audience because they enhance your followers' lives in some way.
Additionally, avoid dead ends. You always want a user to feel like they can learn more or shop more if they like what they see. An Instagram business account should always have a link in the profile bio to your website.
After all, at the end of the day, you're marketing to an audience of potential customers, and you want to make sure you're doing all the right things to attract the most click-throughs.
Use Instagram's Business Tools to Your Advantage
Instagram has a number of e-commerce tools at your disposal, with tons more coming out every year.
You now have the ability to tag products in your feed posts, and Stories can show the price. These tags allow users to then click on specific products they are interested in and see more info. If you're a business that sells products, make sure that you're tagging products in every eligible post.
Instagram's built-in analytics on business accounts is a wealth of information that you should absolutely check regularly. The kinds of data you receive from this include reach, impressions, click-throughs and more.
Impressions: The total number of times your post was viewed.
Reach: The number of times your post was viewed by each individual IP address (does not count second, third or fourth views by the same user). Many business accounts value this number over impressions because it's a more accurate read on how many individuals saw your content.
Saves: The number of times your content was saved to a user's "saved" gallery.
Follower Analytics: This will tell you who your followers are with some basic data. It will also tell you the gender, age range, and location of your highest follower counts and how often they are on Instagram.
Website Clicks: How many clicks the link in your profile bio has gotten.
Use these tools to your advantage to analyze what is working and what is not.
Paid ads are another great way to get more eyes on your business. The best part is that it's usually not cost prohibitive even for small businesses with a limited budget. Also, they're user-friendly and intuitive for beginners.
You can start creating Instagram ads immediately if you have a Facebook Advertising account. You can even target your specific audience demographics if you have a good idea who they are.
Know Your Audience
Knowing who's in your key audience is not only important for your business, but also for your social media marketing strategy.
About 31.8% of the population in the U.S. now use Instagram. If you've neglected your Instagram marketing strategy, now is the time to change that.
That number, by the way, is only growing, and will continue to do so rapidly.
Over 80% of Instagram users follow at least one business account, which is proof that Instagram is not just a social media platform to connect with friends. More people are using Instagram to shop, find new brands, and engage with businesses.
You should also know your audience in relation to your competitors and alter your strategy accordingly. Shouting a message into a noisy space will likely be less effective than pinpointing what your competitors are notdoing and fill the gap.
Once you have your audience pinned down, it will be easier to engage with them in an authentic and casual way.
Be Social on Social Media
Social media is, at its core, social!
You'll find much more success by engaging regularly and thoughtfully with your followers than without.
This means that yes, you really should be responding to all your DM's and replying to or liking comments on your posts. You should also address customer service concerns on social media quickly.
Furthermore, you should be mentioning other accounts and hashtags when you can.
Spend some time out in the wild finding like-minded brands or individuals and engage with them on their turf. Like their posts and comment on them. This will pull in new followers and foster a sense of community on your page.
Being social and engaging also means collaborating with other individuals and brands when applicable. This can take the form of giveaways, limited edition products, or partnering with nonprofits and charities.
You can also use these partnerships and collaborations as an area of opportunity to build anticipation. Announce that something special is happening but keep it vague. Build up to the announcement and make a splash.
Your followers will appreciate this content, and you'll get even more exposure through cross-posting by your partners and their audiences.
Another way to get an increase in engagement on your channel is to ask for it. Hold contests and ask questions in your captions, or ask your followers to do something, like "comment below with your favorite dessert recipe!" or "tell us what you're doing for the holidays below".
You'll be surprised by how many people engage with this.
It is a great way to foster relationships with your audience and make them feel like it's a conversation, and not a one-way street.
Experiment with Instagram Stories
Stories are really your place to throw things at a wall and see what sticks.
Your Instagram stories are like the fun aunt to the Instagram feed. They're a little quirkier, more artistic, and just a little more fun to be around.
While your feed is going about the hard work of showing who you are and what you're about, stories are where you get to really show your personality.
It's important to note, however, that Stories should never replace your feed and you shouldn't stop caring about it. The feed is NOT dead.
There are hundredsof stylistic choices when it comes to Stories, from font colors, emojis, and Giphy stickers, which you can even make your own.
Utilize the swipe up feature as often as you can so you always have a CTA (call to action).
The swipe up is a place for followers to learn more, shop, or discover your brand if they want to. It should be on every single panel! This is one of the key drivers for engagement on Stories.
If you try something, and it tanks, it's gone in 24 hours and you can pretend it never happened.
Let Them Inside
People want to feel like they have an insider's sneak peek on a brand. If you only post content that is from your website or catalog, no one will have an incentive to follow your Instagram and stay up-to-date.
Make your followers feel like this is the one and only place they can get certain content.
How do you do this? Offer exclusivity.
This is a means for you to reward your followers and thank them for being engaged.
A great way to do this is to announce product launches early on Instagram-only. Offer special deals, early access to sales, and content that are reserved only for your followers.
Influence Your Audience with Influencers
Love it or hate it, influencers are the marketing tool of today.
Influencers are successful due to the power of word of mouth. Influencer marketing can be compared to having someone recommend your brand to one million of their best friends, and it works.
It can get pricey, so it's best to do some research. Find out who could have the most impact on your audience for the lowest price.
Ask yourself some questions: Who are the other accounts that my followers follow? What are the specific interests of my followers and are there any influencers that cater to that?
Start by making a list of the top influencers in your industry and start a game-plan. Set your budget and start reaching out to a variety of the influencers on your list.
Build campaigns that target certain goals. Whether it's just general brand awareness you're after, or if you want more people to be exposed to a certain new product or campaign, influencers can speak to that.
The great thing about Instagram is that an influencer has the ability to label a post as sponsored content to ensure you're both within FTC guidelines.
It's also important to note that influencers should not be viewed as one-and-done partners.
Make a concerted effort to build relationships with influencers you've worked with. Not only will your followers like to see that their favorite influencer has a relationship with you, but it also fosters a sense of authenticity from a customer perspective.
Last but Certainly Not Least, Analytics
When you invest in things like paid advertising and influencer marketing, you want to know how hard it's working for you.
Another fancy way of saying this is you want to track your ROI (Return on Investment). You wouldn't buy $4,000 worth of stock and then never check it again would you?
The same principle applies here. In other words, a boost in the number of likes and comments on a photo is great, but how much did that engagement really translate to revenue or website visits?
If awareness is your game plan, a hashtag that is specific to you or your brand is going to give you the most bang for your buck. It's also incredibly easy to track how much a hashtag is being used by others: simply search for it on the app!
To make your life easier, you can use one of the dozens of tools available to schedule your Instagram content automatically.
These tools will also track and analyze data for you, often in neat charts. It will keep tabs on monthly and yearly analytics, so you don't have to.
Final Thoughts
Hopefully, we've drilled down the importance of social media, especially of Instagram, for marketing your business.
Now more than ever, it's imperative that your brand has a solid social media marketing strategy down, and a way to adapt and change if necessary. As social media continues to rapidly change course, your marketing strategy will too. That's why it's going to put you ahead of the curve if you understand the social media landscape, and your audience well.
This all may seem tedious, but it's important to remember that social media is a place where people go to blow off steam and have fun, and you should too! Foster and maintain relationships that will boost the longevity of your brand. You might even find that your work feels more meaningful.
Owner and Chief Marketing Officer, Jason Hall, and his team specialize in creating brand awareness / traffic and lead generation / marketing funnel and conversion optimization, while utilizing the appropriate marketing channels available within your industry. With diverse clients throughout the world, Jason's team is well connected within many industries to assist with your marketing strategies. With no long term contracts and various levels of service, Jason's team will increase the quality of your online traffic, leads, and sales.
Free Website Audit Tool
See how well optimized a web page, landing page, or blog post is for an exact keyword or phrase
About the author...
Located in the heart of the Emerald Coast - Destin, FL, founder and Chief Marketing Officer, Jason Hall, and his team specialize in creating brand awareness / traffic and lead generation / marketing funnel and conversion optimization / and PR campaigns, while utilizing the appropriate marketing channels available within your industry.
With diverse clients throughout the world, Jason's team is well connected within many industries to assist with your marketing strategies. With no long term contracts and various levels of service, Jason's team will increase the quality of your online traffic, leads, and sales.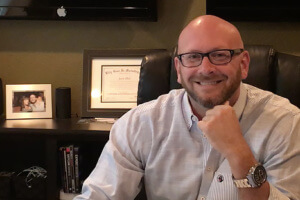 Request a digital marketing strategy session today and we'll show you what you've been missing!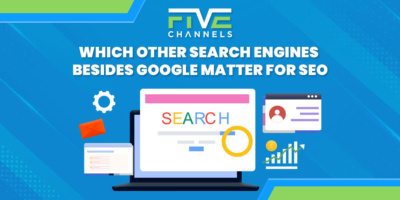 Are you struggling to improve your online presence and boost your website's SEO? Google is the most popular, but optimizing…